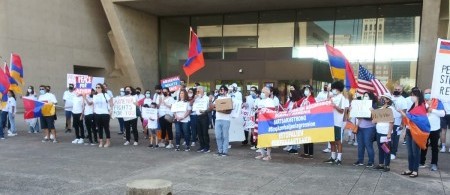 Community Events –  Dallas, Tx
..
 
ՀԱՐԻՒՐԱՒՈՐ ԱՆՁԵՐ ՄԱՍՆԱԿՑԵՑԱՆ ՏԱԼԱՍԻ ԼՈՒՌ ԲՈՂՈՔԻ ՑՈՅՑԻՆ, ԼԵՌՆԱՅԻՆ ՂԱՐԱԲԱՂԻ ԵՐԿՐԻ ՅԱՐՁԱԿՈՒՄՆԵՐՈՒՆ ԱՌԹԻՒ 
Կիրակի, Հոկտեմբեր  4, 2020ին, կէսօրուան ժամը 12։00ին, մօտաւորապէս  400-500 հայեր, մեծահասակներ, երիտասարդ-երիտասարդուհիներ, պատանիներ եւ մանուկներ՝ բողոքի լուռ ցոյցով ու երթով, մասնակցեցան Խաղաղութեան քայլարշաւին, որ տեղի ունեցաւ Տալասի քաղաքապետարանին դիմաց: Սոյն քայլարշաւին իրենց մասնակցութիւնը բերին նաեւ Տալասի Ս. Սարգիս Հայ Ուղղափառ Եկեղեցւոյ անդամներ: 
Ցոյցի երթն անցաւ ի պատասխան ամբողջ Արցախի մէջ ատրպէյճանցիներու ահաբեկչական արարքներուն: Մասնակիցներէն շատերը սպիտակ հագուստ հագուած էին, իրենց ձեռքին ունենալով լոզունգներու եւ կարգախօսներու ցուցատախտակներ: 
Ցեղասպանութենէն ետք մեր գլխաւոր հարցը հայապահպանումն էր, որ հիմնեցինք Ցեղասպանութեան ճամբուն վրայ, մեր նպատակակէտն է որ գաղափարական ուղին  մնայ միեւնոյնը՝ ծառայել բովանդակ հայ ժողովուրդին՝ պաշտպանելով անոր բոլոր՝ քաղաքական, ընկերային, տնտեսական եւ մշակութային շահերը: Տալասի հայութիւնը միշտ նեցուկ կը կանգնի Արցախի եւ Հայաստանի Հանրապետութեան կողքին:
«ԵՐԱԶ»  ՄՇԱԿՈՒԹԱՅԻՆ ՅԱՆՁՆԱԽՈՒՄԲ
Տալաս-Թեքսաս
HUNDREDS  MARCH  IN DOWNTOWN DALLAS-TX PROTESTING IN PEACE  THE COUNTRY'S  ATTACKS  ON  NAGORNO-KARABAKH 
OVER THE PAST WEEK.
    An  estimated 400-500 Armenians, adults, teens, youth and children participated in a Peace Walk on October 4, 2020 at 12:00 noon in front of Dallas City Hall in downtown. Members of  St. Sarkis Armenian Orthodox Church of Dallas also participated in this peaceful March.
    The March was held in response to the terrorist acts of Azerbaijanis throughout Artsakh. Many of the participants were dressed in white as a symbol of peace holding placards of slogans and mottos.
    After the Genocide, our main issue was the preservation of the Armenian identity, which we founded on the path of the Genocide. Our goal is for the ideological path to remain the same – to serve the entire Armenian people, defending all their political, social, economic and cultural interests. The Armenians of Dallas always stand by Artsakh and the Republic of Armenia.
"YERAZ" CULTURAL COMMITTEE
Dallas-Texas