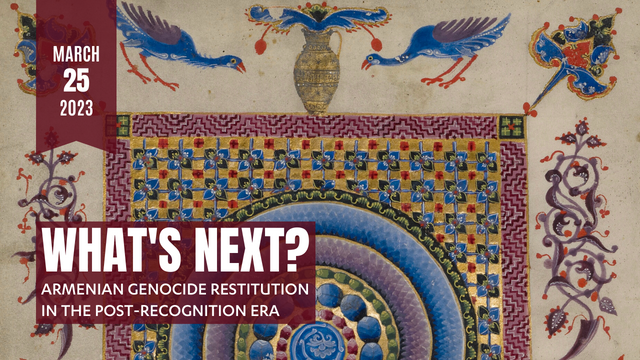 COMMUNITY   EVENT
What's Next?:
Armenian Genocide Restitution
in the Post-Recognition Era
The Promise Armenian Institute at UCLA,
and
 present the first-ever conference pertaining to the Armenian Genocide and Restitution. This conference is co-sponsored b
Saturday, March 25, 2023
8:45 AM – 5:00 PM (Pacific Time)
Mong Learning Center (Engineering VI Building)
404 Westwood Plaza
Los Angeles, CA 90095
————————————————
Click here to register for in-person attendance.
Click here to register for Zoom attendance. 
————————————–
Schedule
08:00 – 08:45 Registration & Coffee
08:45 – 09:00 Welcoming Remarks
Taner Akçam

, Ann Karagozian, Stanley Goldman, Marc Mamigonian
09:00 – 09:20 Introduction
Taner Akçam
09:20 – 10:45  Interview with Amb. Stuart Eizenstat:
How Can Holocaust Restitution Serve as a Model? (pre-recorded)
  In Conversation: Amb. Eizenstat and Michael Bazyler
10:45 – 11:00  Coffee Break
11:00 – 12:15  Panel 1: Lessons from Armenian Genocide Litigation
Moderator: Marc Mamigonian
Panelists: Madison King, Rajika Shah, Karnig Kerkonian, Thaddeus Stauber
12:15 – 01:30  Lunch Break (Free Lunch)
01:30 – 02:45  Panel 2: Armenian Genocide Looted Art
Moderator: Michael Bazyler
Panelists: Andrew Curry, Ani Avagyan, Alex Herman, Heghnar Watenpaugh
02:45 – 03:00 Coffee Break
03:00 – 04:15  Panel 3: U.S. Armenian Genocide Policy Post-Recognition
Moderator: Rajika Shah
Discussants: Armen Hovannisian, Kate Mackintosh
Panelists: Lee Boyd, Mayo Moran
04:15 – 05:00  Closing Reception
———–