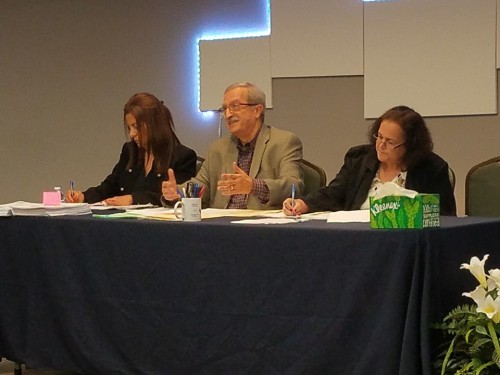 O.I.A. N e w s
Պոլսահայ Միութեան Ընդհանուր Ժողովը աւարտեցաւ, Վարչութեան անդամներուն եւ Ժողովի նախագահ Սիմոն Աճըիլաչօղլուի հետ որ վարեց ժողովը իր պարզ եւ սովորական կարողութեամբ Ժողովի մնացեալաշխատակիցներուն հետ:
Շնորհաւորութիւններ՝ նորընտիր անդամներուն, ակնկալելով ձեր ներդրումները:
Ի վերջոյ, շնորհակալութիւն  կը  յայտնեմ ձեզի՝ ինծի հանդէպ  ատենապետութեան  առանձնաշնորհման նշանակման ձեր վստահութեան եւ սոյն պաշտօնին մէջ իմ տասներորդ  յաջորդական  ժամկէտի համար: Մենք կը խոստանանք յարգանքով շարունակել ծառայել մեր համայնքին եւ բաց թեւերով մեր բոլոր անդամներուն եւ աջակիցներուն:
Ինչպէս որ Եղիշէ Չարենցը հզօրօրէն արտայայտուեցաւ «Ո՜վ հայ ժողովուրդ, ձեր միակ փրկութիւնը կը կայանայ ձեր միասնութեան զօրութեան մէջ»:
Following our General Assembly Meeting with members of the Board and the Assembly President Simon Acilacoglu who ran the meeting with usual customary competence and the rest of the Assembly officers . Congratulations to the newly elected members , look forward to your contributions .
Finally , thank you for entrusting me with the privilege of the chairmanship of our precious organization for my tenth consecutive term in that position . We pledge to continue to serve our community honorably and with open arms to all our members and supporters .
As Yeghishe Charents expressed powerfully
" Oh Armenian People , your only salvation lies in the power of your unity " !!!
— with Talin Manukyan-Yaylaoglu, Edward Kose, Zar Hacikian, Mark M. Kosker, Mari Hacikian, Herman Yaylaoglu, Simon Acilacoglu, Rozalin Madoian, Avedis Tekolyan, Talin Sarafoglu, Vatche Kilavuz, Agop Anahid Kojayan, Ohannes Kulak, Serj Bulanikian, Edi Sarafoglu, Hagop Jack Halici, Arek Balci and Garbis Sarafian at Organization of Istanbul Armenians (OIA).
Edvin Erdi Minassian, Esq.