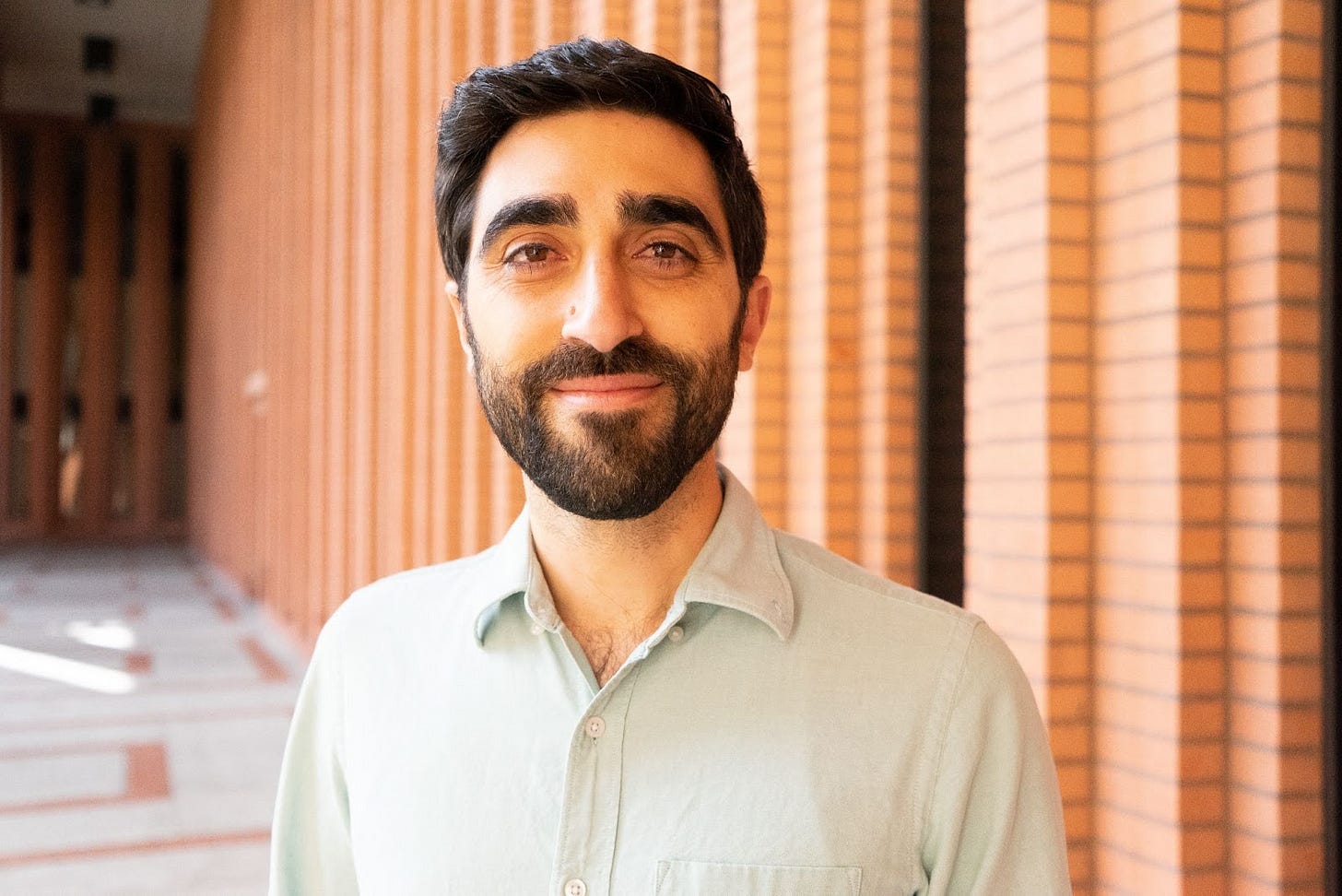 …
OUR  NEW GENERATION
MANUK AVEDIKYAN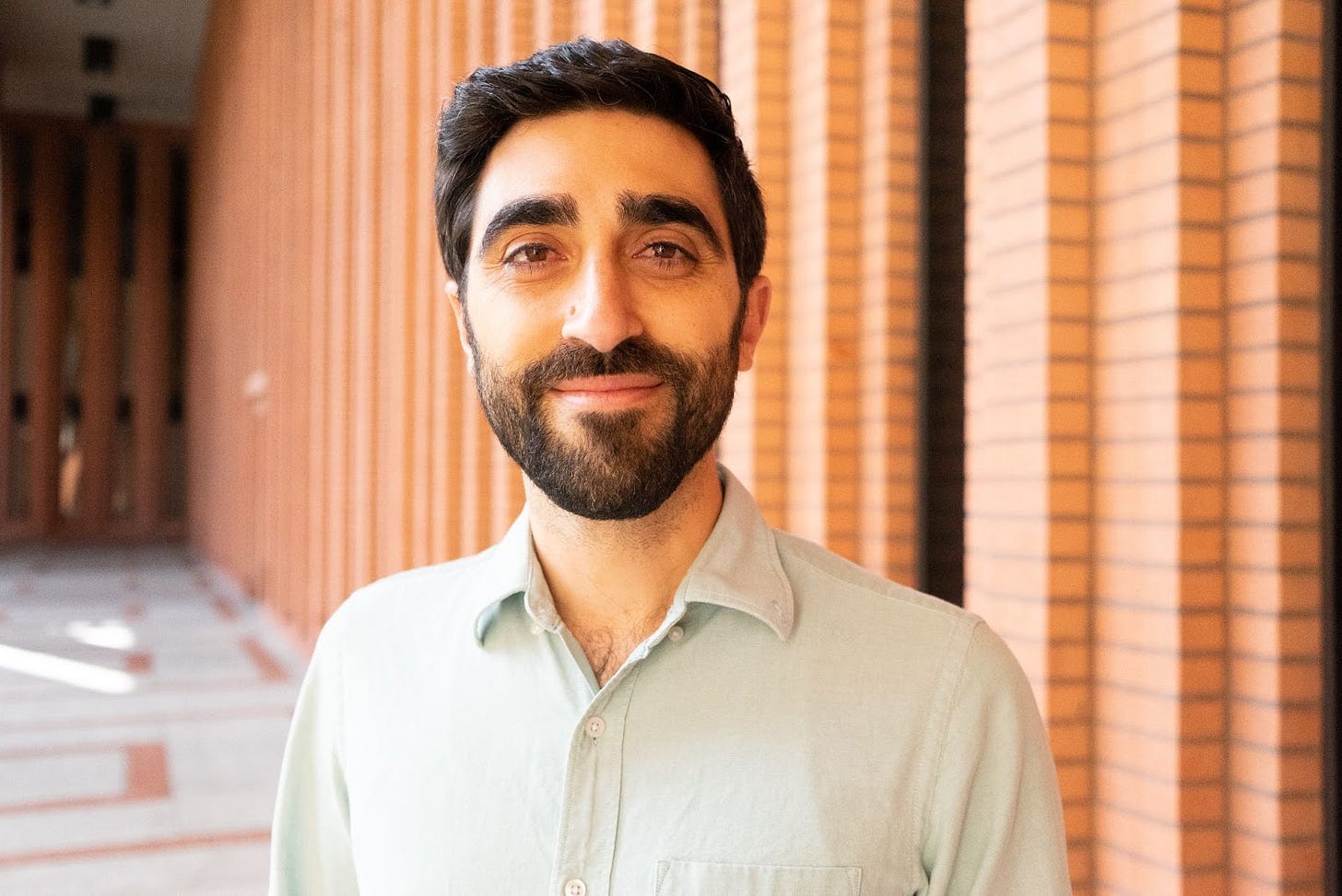 "We are interviewing people that are very engaged in the community, as well as people who barely interact with traditional diaspora infrastructure."
Even if you have never spoken with Manuk Avedikyan before, his warm eye contact and affable demeanor will make you feel like fast friends. Like any good documentarian, when in conversation with you, he listens intently and with sincere interest.
The 35-year-old was born in Hollywood to Armenian parents from Turkey. He attended Armenian schools throughout his childhood –– Arshag Dickranian Armenian School in Hollywood and AGBU Manoogian-Demirdjian School in Canoga Park –– before continuing his education in history at California State University, Northridge.
Manuk grew up immersed in the large Armenian community of Los Angeles, and the Turkish-Armenian diaspora in particular. His father was cultural committee chair for the Organization of Istanbul Armenians, a group dedicated to advancing social and cultural opportunities for Turkish-Armenian immigrants.
"I was always going to community events, meaning plays, concerts, operas, art exhibits, films," Manuk says. "If there was an Armenian community event, my dad was there, and my parents would both bring me."
Manuk's interest in history emerged at a young age –– an only child, he would often tag along to academic lectures his father organized. He describes his father as an "amateur history geek," whose love for the subject rubbed off on his son.
"I was one of the only young kids at a professor [Richard] Hovannisian, or Vahakn Dadrian, or Taner Akçam, or others, and there I was," Manuk says, listing the names of prominent scholars whose lectures he attended as a boy. That early exposure would shape his professional trajectory.
In 2012, propelled by his "young nationalistic mind" and chasing his to-be wife, Manuk moved to Yerevan to obtain his master's in political science and international affairs from the American University of Armenia. Manuk's time outside the classroom –– spent traveling throughout the country and region –– was just as impactful as his studies.
"It was a very vibrant three years. It was a very complicated three years," Manuk says. "There were a lot of protests. So much so that there is even a Wikipedia page on it. And I was at pretty much all those protests."
Despite his active participation in civic life, Manuk came to understand how many of his experiences in Armenia were complicated by impermanence and diaspora privilege. Unlike his local friends, he had the option to walk away when the country's challenges became too heavy.
"I realized that I had the benefit of coming back to see my family and disengaging from this negative political environment," Manuk says. "I have this luxury while my friends don't have that luxury of taking a break."
Manuk also took advantage of his proximity to Turkey to explore his roots, a practice he says many Armenians have rejected due to their violent subjugation during the Ottoman Empire. In 2015, he traveled to Istanbul for the centennial anniversary of the Armenian Genocide and visited his ancestral villages in historic Western Armenia, two experiences that he will never forget.
"We have thousands of years of Armenian identity and history rooted in this land that we supposedly call our homeland –– but don't engage in the remnants of it in terms of physicality or human," Manuk says.
Seeking to advance his career beyond the opportunities Armenia could provide at the time, Manuk returned to California and began working as a project manager at the USC Shoah Foundation.
Founded in 1994 by film director Steven Spielberg to preserve the memories of the Holocaust, the foundation's archives now include more than 56,000 testimonies from survivors of numerous mass atrocities. Firsthand accounts of the Armenian Genocide comprise the second largest collection of testimonies housed in the foundation's digital library.
In his role, Manuk watched and indexed more than 500 Armenian Genocide survivor testimonies, giving him a granular familiarity with the atrocity that few possess.
In April 2021, following decades of advocacy by Armenian-American groups, U.S. President Joe Biden officially recognized the Armenian Genocide. For many, the moment was both momentous and anti-climactic, but Manuk believes that recognition paved the way for a lot more work ahead.
"Now that Biden recognized the genocide, all doors are open. There are no restrictions. We can apply for as many grants as possible. We can do whatever we want because now it's recognized by the country and our activism on an educational level is open," Manuk says. "But that's a lot of work and there's not that many of us and too many of us are lawyers and doctors."
Manuk is doing his part –– after more than seven years at the Shoah Foundation, he recently moved offices on campus to the USC Institute of Armenian Studies, where he oversees a project called "California History Through Armenian Experiences." The project is dedicated to chronicling the rich history of Armenians in the Golden State, which Manuk describes as "the most diverse administrative unit of Armenians in the entire world."
"You've got everyone here –– your Venezuelan Armenians, your Bakveci Evangelicals, your Rostov Armenians. Everyone. Whatever you want, you've got it here," Manuk says.
While the project seeks to document the stories of active participants in Armenian public life, Manuk also enjoys turning the spotlight on the community's unsung heroes.
"We are interviewing people that are very engaged in the community, as well as people who barely interact with traditional diaspora infrastructure," Manuk says. "I interviewed a woman from a ladies' auxiliary of a church. These women are not people that get a lot of recognition. They're not well known. They're not on stage giving speeches, but they're the engines of the community. Without them, you really can't get a lot of stuff done."
Through his work, he has learned that there is no such thing as "the Armenian story" –– rather each Armenian is a collection of unique experiences and histories, and no single story is the same.
June 2, 2023: This piece was updated to correct the subject's job title at the USC Institute of Armenian Studies and Shoah Foundation. He is a project manager, not an archivist. The pull quote was updated to accurately reflect the breadth of interviewees selected for the "California History Through Armenian Experiences" oral history project.