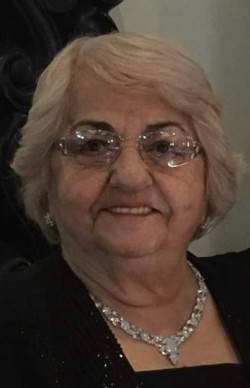 Mrs. Maribel Hidirsah Uygan (1937-2020)


40 th Day Requiem Service

Mrs. Maribel Hidirsah Uygan
( Diyarbakir 1937 –  Los Angeles 2020)–
40th Day Requiem  Service will be held


On Sunday , September 20, 2020 at 1:30 PM
Memorial Park Management requires
Wear a mask  and keep social distancing  
…
Survived By, 
Her Husband: Mr. Afrem Uygan
Her Daughter: M/M Ronald  & Ferah Uygan-Dauzat
        their children Jordan & Christine Dauzat
Her Son: M/M Abit  &  Natalie Mouchamel Uygan
their children Afrem & Marie Uygan
Her Beloved Sister Janet Sucu
Her Sister Mrs. Beyhan Vartanyan
Her Nieces and Nephews:
M/M.  Anto & Sevda

Karaguezian

and Family
M/M. Fuat and Ferda Sucu and Family
(Fuat: Former member of OIA Board of Directors)
Mrs. Sevan Vartanian Sert and her children
Miss. Selin Vartanian
Her extended families Uygan, Hidirsah, Sucu, Vartanyan, Dauzat, Mouchamel, Karaguezian, Sert, Arslan and Sabuncu families
..
 Contact:

Mr. Abit Uygan (213) 804 9139
..
follow on Twitter | like on Facebook | forward to a friend