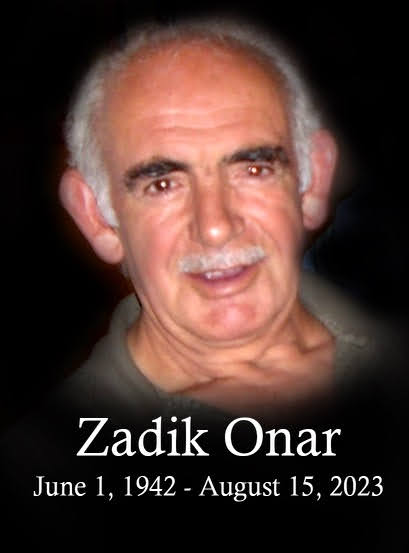 Mr.  Zadik Onar (1942-2023)
 Funeral Announcement.
His Wife: Mrs. Zumrut Onar
Mr. & Mrs. Norayr and Niver Daduryan (Onar),
Mr. & Mrs. Jan  and Belinda Onar
His Grandchildren:
Zovak – Narek – Derev – Arev Daduryan,
Alik – Arin Onar
 Siblings (Istanbul):
Mrs. Isguhi Ambar,
Mrs. Gulbeyaz Yilmaz,
 Mr. & Mrs. Markar and Gohar Onar
Mr. & Mrs. Gazer and Rita Onar 
Sert , Danaci and Panosyan families
Dear friends and extended family
Funeral Services will be held 
On Saturday, August 26, 2023 at 1:00 PM
 at Holy Cross Armenian Apostolic Cathedral, 
 900 W Lincoln Ave, Montebello, California 90640  
*******
Followed by Internment Services
 Rose Hills Memorial Park,
3888 Workman Mill Road, Whittier, California 90601 
**********
Following Service a Memorial Luncheon will be served  
at  Golden Skewer Restaurant and Banquet Hall
 2212 W Beverly Blvd, Montebello, CA 90640
.
It is the wish of the family that in Lieu of Flowers,
Donations in his memory be made to:
Organization of Istanbul Armenians
Or
  St. Gregory Armenian Saturday School, (Pasadena, CA)
( Zelle Account 626-807 1011)
Contact:  Mr. Norayr Daduryan (Onar)  (626) 660 9443
Jan Onar (213) 574 7333
…….
On behalf of the Organization of Istanbul Armenians Board of Trustees, Executive,  and all the committees, we convey our heartfelt condolences to:
 Mrs. Zumrut Onar
Mr. & Mrs. Norayr and Nver Daduryan (Onar)
Mr. & Mrs. Jan and Belinda Onar
His  family, relatives and friends. Praying for his departed soul.