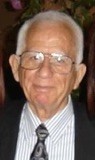 Mr.Mihran Citak
(Malatya 1929 – Los Angeles 2017)
***
Survived By:
His Son: M/M  Delemak & Zabel Citak
(Mr. Delemak Citak was the former member of OIA Board of Directors)
His Daughter: M/M Arman &  Siranus Citak Demir
(Mrs. Siranus Citak Demir Was former Member of OIA Cultural Committee)
His Grandchildren:  Anjelina Pegruhi Demir and Alec Harutyun Demir
Funeral services will be held on Thursday. Aug.10, 2017  at 2:30 PM 
The Red Church at Forest Lawn Hollywood Hills.
 followed by Hokejash at Phonecia.
****
It is the wish of the family that in lieu of flowers
donations in his memory be made to:
Organization of Istanbul Armenians
or
Ararat Home
***
Information provided by Mr. Arman Demir
****
On behalf of   OIA Board of Trustees, OIA Executive Committee
and
all the committees, we convey our heartfelt condolences To:
M/M  Delemak & Zabel Citak
M/M Arman &  Siranus Citak Demir
Also all Relatives and Friends