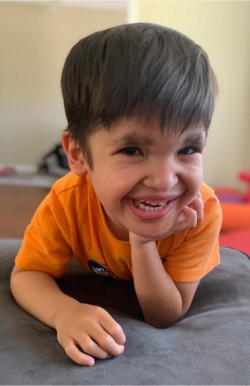 …
  Mr. Matthew Ernest Kirec (2016-2021)
1st Year REQUIEM SERVICE

Mr. Matthew Ernest Kirec
(  September 15, 2016 -July 14, 2021)
Preceded in death by

Uncle Mr. Ernest Agustin Suguitan
and
Grandfather Mr. Ernesto Suguitan
1st Year Requiem  Services will be held


On Sunday , July 17, 2022 at 1:00 PM
at Oakwood Memorial Park
22601 Lassen Street, Chatsworth, Ca. 91311 
Please wear masks and keep social distancing.
( State and LA County Health Regulations
to be strictly enforced )
Survived By, 
His Parents: Mr. & Mrs. Saro and Lynne Kirec
His Sister: Makayla Kirec
His Grandparents:  Mr.&Mrs. Setrak and Kamelya Kirec
His Grandmother: Mrs. Eden Suguitan
His Aunt & Uncle: Ms. Serli Kirec and Mr. Gregg Washington
His Aunt & Uncle: Mr.&.Mrs. Adam Wendy Huss
His extended  families:  Zorluol, Arik, Sahbaz, Yesiltepe, 
Demirel, Ozgul, Barsam, Vartanian, Sahbaz (Ist.), 
Berberyan, Suguitan, Agustin, Edejer, 
Legaspi, Dumlao, Wilson, Madrinan and Rosales
               
Dear friends and extended families
       Contact:  Mr. Saro Kirec (818) 344 4669
..