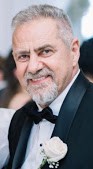 …

 Mr. John Karekin Goncu Daron (1953-2020)
Former Member of OIA Board of Directors
Funeral Service will be held 
On Wednesday, December 30,  2020 
at Glen Haven Memorial Park
13017 Lopez Canyon Rd,
Sylmar ,CA 91342
Private Funeral Ceremony
Please wear masks and keep social distancing.
( State and LA County Health Regulations to be strictly enforced . )

It is the wish of the family that in Lieu of Flowers,Donations in his memory be made to:Organization of Istanbul Armenians(pay online) to OIA.
or
Friends of Armenia
 

Contact: Mrs. Hilda Daron (818) 554 6824
 Our hearts are heavy as we announce that the passing of my beloved dad, John Karekin Daron was on December 5th, 2020. He was 67 years old when his courageous, excruciating, and unfair, battle against brain cancer came to a sudden end. He passed as he was surrounded by his loved ones in the comfort of his own home.It is never an easy task to represent someone with words as they will fall short of capturing their true essence. In this instance, they will fall so far below the mark that I feel it is almost futile to try.He was a loving Father, Husband, Brother, and Son. He was one of the most intelligent, hardworking, supportive, funny, adventurous, knowledgeable, helpful, and kind individuals I ever knew.We will always look back and cherish the precious memories we were fortunate enough to enjoy together while he was still with us. I will forever be grateful that he was able to walk me down the aisle and give me away to my wonderful husband and his amazing family. It brings me peace and comfort that he went, knowing his one and only princess will be taken care of.He is survived by his wife Hilda Daron, Son Barkev Daron, Daughter Melissa Daron Bicakci, Son-in-law Shant Bicakci, Mother Manya Goncu, Mother-in-law Rita Sevan, and his in laws who he loved deeply and enjoyed spending time with; Arto and Arlet Bicakci along with their other Son, Eddie.He was deeply loved and highly respected by his friends, employees, and loved ones.It is very devastating to accept that his time with us has come to an end. He will forever be loved and missed.
—
…