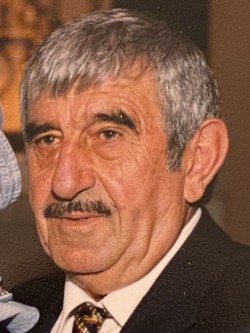 ..
 Mr. Istepan Evhan (1941 – 2022)


 Funeral Announcement.
Survived By, 
His widow: Mrs. Narin Evhan
His daughter Talin Davitian her husband John and their sons Brandon and Steven
His daughter Sibel her husband Vahe Torus and their
Children Cynthia and Matthew
His son David Evhan and his son Daniel Evhan
His brother Setrak and his wife Siran and
their sons Arshak and Garo and Their  Families
His Brother-in-Law Toros Kilavuz and His Children
Paylin Gurnagul, Rober Kilavuz and their Families
Evhan – Kilavuz – Kosker Ergun – Saray – Davitian – Torus -Simonian – Mazman Families
Dear friends and extended families
………
Funeral Service will be held 
On Friday, June 17, 2022 at 9:30 AM
at St. Peter Armenian Apostolic Church
17231 Sherman Way, Van Nuys, CA 91406
——
Followed by Internment Service
at Eternal Valley Memorial Park & Mortuary
23287 North Sierra Hwy., Newhall, CA 91321
.
It is the wish of the family that in Lieu of Flowers,
Donations in his memory be made to:
Organization of Istanbul Armenians
Talin Davitian  (818)472-665
9
Sibel Torus  (818) 667-0157
David Evhan1(818)464 -4464
…….
On behalf of the Organization of Istanbul Armenians Board of Trustees,
Executive,  and all the committees, we convey our heartfelt condolences to:
Mrs. Narin Evhan
Mr & Mrs  John and Talin Davitian
Mr & Mrs   Vahe and Sibel Torus
Mr Davit Evhan
Mr & Mrs  Setrak and Siran Evhan
Dr & Mrs. Mark and Annette Kosker
 His  family, relatives and friends.
Praying for his departed soul.