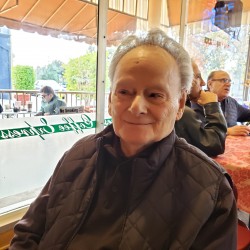 …
Mr. 

Hagop Retik Apamyan (1926 -2020)


 Funeral Announcement.
Hagop Retik Apamyan
January 6, 1926 – March 8, 2020
42 years member of Khatchaduryan Choir.
1975 St. John Armenian Cathedral. Backgammon Champion.
Passionate Orator and Story Teller.
A Magnificent Man, and Devoted Husband and Father.
Survived by:
Wife: Susan Apamyan




Son: Merujan Nuran Apamyan




Daughter and Son-in-law: Celine and William Patrick Malone




Nephew and Niece: Natan and Lisa Apamyan, Istanbul




Cousins:




Apamyan families, France




Apamyan families, Armenia




Aivazian and Torosyan families, Los Angeles
Dear friends and extended families
………
Funeral Services will be held 
on Saturday, March 21st, 1:30pm,
at St. Leon Armenian Cathedral,
3325 North Glenoaks Blvd. Burbank CA 91504. 
Afterwards, Internment service will commence at 3:15 pm, Forest Lawn Memorial Park,




Hollywood Hills, 6300 Forest Lawn Dr, Los Angeles, CA 90068, section Tenderness 2030, to Celebrate our father, Hagop Retik's Beautiful Life.
.
It is the wish of the family that in Lieu of Flowers,
Donations in his memory be made to:
Organization of Istanbul Armenians
Contact: 
Merujan Nuran Apamyan (818) 426 5429
…….
 
On behalf of the Organization of Istanbul Armenians Board of Trustees,
Executive,  and all the committees, we convey our heartfelt condolences to
  Mrs. 

Susan Apamyan
Mr,

Merujan Nuran Apamyan
M/M  

William Patrick and 

Celine Malone
His  family, relatives and friends.
Praying for his departed soul
—  follow on Twitter | like on Facebook | forward to a friend