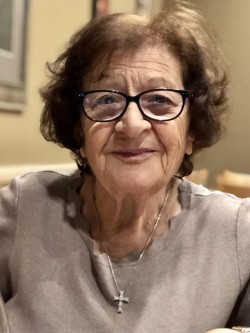 …
Mrs. 

Maryam Akpulat (1935-2021)
 Funeral Announcement.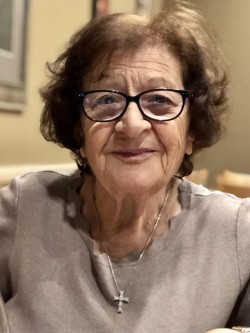 Mrs. Maryam Akpulat
Born in Malatya, Turkey  on March 1st, 1935 and passed away in Los Angeles, California, United States on August 29, 2021. 
Beloved wife, mother, grandmother, aunt and everybody's best friend. 
–
She is survived by
Her Loving Husband:
Mr Karabet Akpulat
( Honorary  Member of OIA Board of Trustees)
Her Loving Children:
Mr & Mrs Gayzak & Ayda Agopyan
Her Daughter-in-law: Mrs Edna Akpulat
Her Loving Grandchildren:
Mr & Mrs Alan and Tagouhi Akpulat
Mr Andy Agopyan & Miss Sarin Balikian
Miss Clara Agopyan
Her Loving Siblings:
Ms Makruhi Danaci (Istanbul)
Ms Vartuyi Oz 
Mr & Mrs Serop and Jeannie Cokvar
Her Amazing Families:
Oz 
Cokvar 
Kodikian 
Danaci 
Gundogdu 
Agopyan 
Akpulat 
Urun 
Basak 
Kanat
                 
Dear friends and extended families
………
Funeral Services will be held 
 on Thursday, September 9, 2021 at 9:30 AM
St Peter Armenian Apostolic Church
17231 Sherman Way
Van Nuys, CA 91406
Followed by Internment Services
at Oakwood Memorial Park
22601 Lassen St
Chatsworth, CA 91311
Fountains Section – Lot 124
 

Please wear masks and keep social distancing.
( State and LA County Health Regulations 
to be strictly enforced )
.
It is the wish of the family that in Lieu of Flowers,
Donations in her memory be made to:
OIA Bedros Akpulat Scholarship Fund.
Contact: Mrs. Ayda Akpulat
…….
On behalf of the Organization of Istanbul Armenians Board of Trustees,
Executive,  and all the committees, we convey our heartfelt condolences to:
Mr. Karabet Akpulat
Mr & Mrs Gayzak & Ayda Agopyan
Mrs. Edna Akpulat 
Her  family, relatives and friends.
Praying for her departed soul.