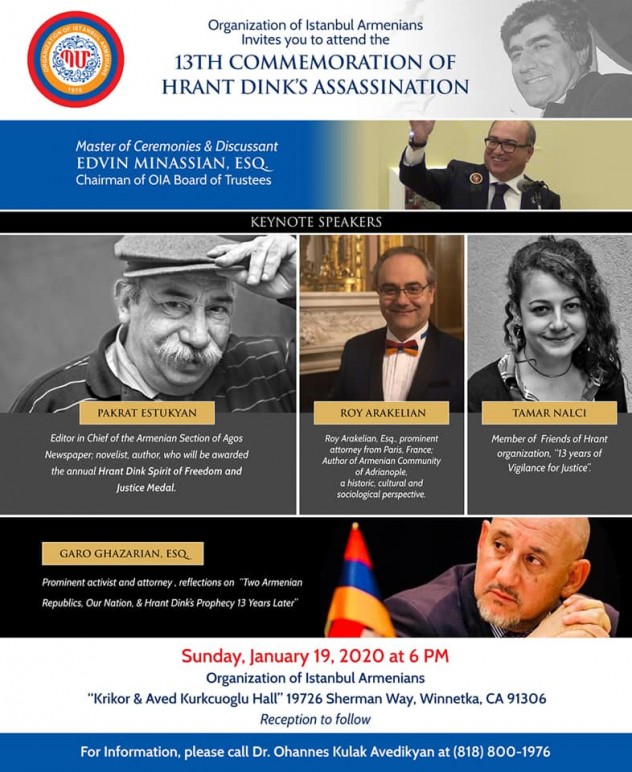 ..
"Event Sponsored By The George Ignatius Foundation "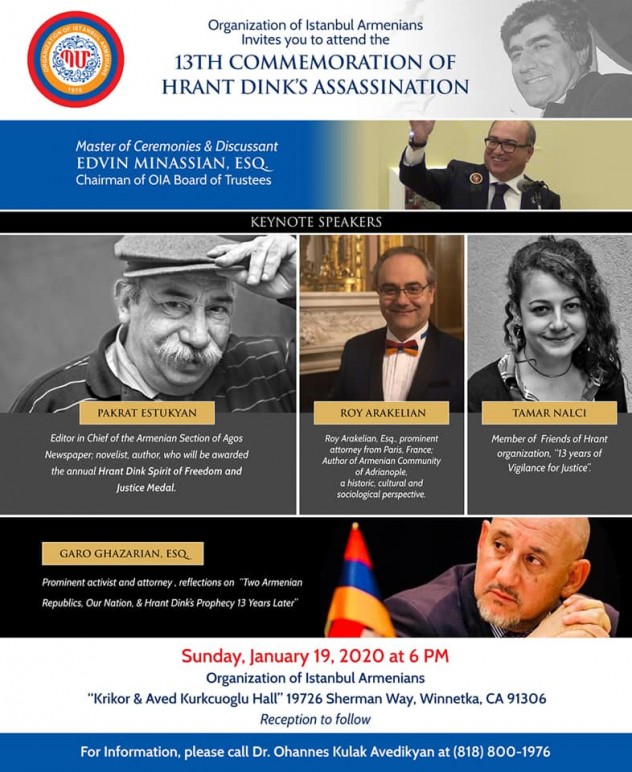 .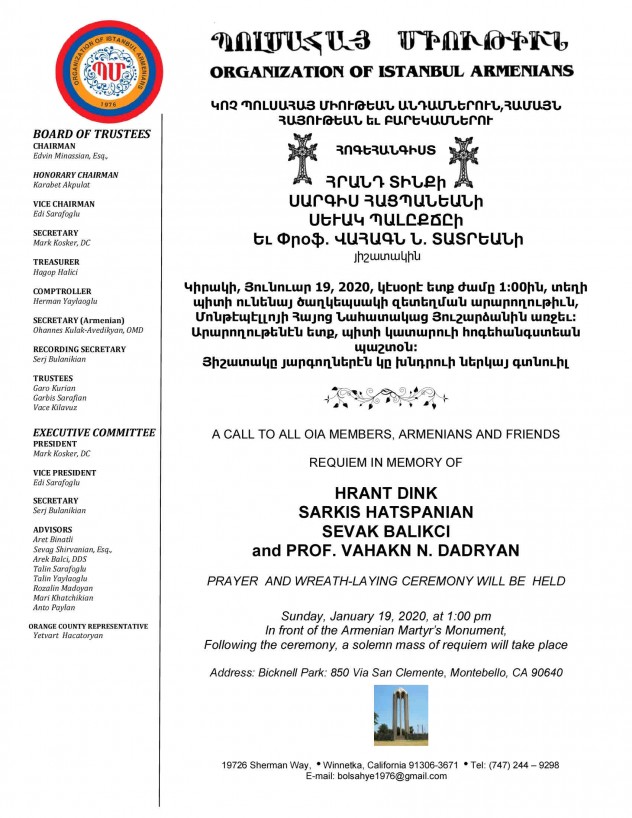 Pakrat Estukyan
We are very excited and proud to welcome Pakrat Estukyan as the Primary Keynote Speaker to Los Angeles and have the honor to present him with the 2020 Hrant Dink Medal .
Don't miss the 13th Commemoration of Hrant Dink at OIA on Sunday the 19th of January at 6pm .
Pakrat Estukian was born in 1953 in the Rumelihisar district of Istanbul, from Armenian Genocide survivors' parents, who found refuge in the historic Armenian districts of Constantinople,
Rumelihisar and Samatia.
Estukian's childhood passed on Feridiyye
Street in Taksim District. He attended first the nearby Esayan and Sakizaghachi Mkhitarian, then the Getronagan Colleges. For many years he was involved in biological astronomy, always keeping the connection with literature alive. His stories, all of which were woven from pan-Armenian materials, were published in the city's periodicals. A selection of these stories was first translated into Turkish and then translated into Armenian under the names "Armenian Hikayeler" and "Bandukht Song". He is part of the editorial staff of the Agos newspaper, working as editor-in-chief and columnist for the Armenian pages of the newspaper.
For the Art TV channel, in partnership with the editor of the Greek newspaper "Aboevmatin", Mikhail Vassiliatis, since November 2017, he has been preparing a weekly newsletter with content on weekly city and town events. He performs weekly for the "Ayp FM" radio station in Paris and Radio Agos with "Aghik Radio" station in Istanbul. He also works as a columnist for the daily "Özgürlükçü Demokrasi".

ROY ARAKELIAN, ESQ.,
Our second Keynote Speaker at the Hrant Dink commemoration is a very prominent Bolsahye Attorney from Paris , France ; Roy Arakelian . Roy is a specialist in corporate mergers and acquisitions law and at the same time a passionate contributor to Armenian culture from numismatics , to ancient manuscripts to Venice and its Armenian roots . ( check out his App called Armenian Traveler Guide / ATG which can lead you to an Armenian tour of Venice and Ravenna ) Descending from a family who is originally from Edirne/ Adrianople he has thoroughly researched the Armenian presence and history in that ancient strategically positioned town and written a book about it . His lecture will cover the scope of that book . This less known part of our history should be of interest to most of us who are passionate of heritage , history and culture .
Roy's Biography :
ROY ARAKELIAN, ESQ.,
Roy was born in Istanbul in 1968.
Graduated from the Paris Bar School in 1996 Roy is specialized in Mergers & Acquisitions and private-equity transactions (LBO, venture capital, development capital, constitution of funds etc.). He is highly experienced in handling primary and secondary transactions in
investment funds for institutional investors and funds of funds.
Roy also focuses his practice on domestic and cross- border mergers and acquisitions of companies acting in various sectors (industry, tourism, pharmaceutical business, distribution, manufacturing, etc).
He holds a Master in Business Law from the University Paris V René Descartes. He is also a Doctor in Law and as such the author of a PhD thesis on "The Concept of Control".
He regularly publishes articles concerning corporate law and is the author of the main chapter on "Preferred shares" published by the Dalloz Corporate / M&A Encyclopedia.
Passionate about Armenian culture he regularly
publishes works on various topics such as the Armenian presence in Venice or the Armenian coinage. He is the author of "Andrinople (Edirne) et sa communaute Armenienne / Edirne (Adrianupolis) ve Ermeni toplumu", published by Paros, Istanbul (2016).
.

TAMAR NALCI
We are also very pleased that we will be joined by Tamar Nalcı at the 13th Commemoration of Hrant Dink who will focus on the vigilant quest for justice since his murder . Tamar is a very knowledgeable activist and civil rights defender who has been part of the Friends of Hrant Dink organization and until recently the Chief of Staff for MP Garo Paylan. The critical state actors ( some ) in the conspiracy for Hrant Dink's murder had not even been charged till four years ago and the legal proceedings are moving in a slow pace but still moving .
She joins us from Stanford in Palo Alto , California and we look forward to her insights and informative presentation .
Tamar's Bio : TAMAR NALCI
Tamar Nalci received her bachelor's degree in Western Languages and Literature at Yildiz Technical University and continued masters' program in Cultural Studies at Istanbul Bilgi University. At the same time, she had worked as an assistant in Aras Publishing and as a volunteer reporter in Agos Weekly.
After her graduation, she had for years worked in Anadolu Kultur as a coordinator of projects on arts and cultural dialogue with Armenia and on cultural diversity in Turkey. In 2015, she became the advisor to Garo Paylan, HDP deputy in the Turkish Assembly.
Moving to Stanford in 2018, she continues working on civil society projects and human rights' defense in Turkey.
GARO GHAZARIAN, ESQ.
Finally , as in each and every year, The Commemoration will feature the unique Orator , The Closer Garo Ghazarian !!!!
With roots in Kessab and a proud son of Bourj Hammoud , for a long time an Angelino , he is also an honorary Bolsahye / OIA Member , a dedicated patriot whose allegiance & loyalty ( other than his family and friends of course )
is strictly to Truth , to Justice and to the Nation !!
Always Rising Fiercely with his unstoppable 100+ MPH fastball , he also has a few curveballs and sliders in his arsenal to baffle opposing batters . Garo Ghazarian is a leader , an activist and a great criminal defense attorney , all at the same time . He will address the current state of the Nation , the two Republics and how that is intertwined with the dreams and vision of Hrant Dink .
He will be the stimulating and energizing Closing Speaker of the 13th Commemoration of Hrant Dink . Fasten your seatbelts !!
Garo's Bio :
GARO GHAZARIAN, ESQ.
Activist and past Two Term Chairman of the Armenian Bar Association), Garo Ghazarian, Esq.
is a Criminal Defense Attorney, in Los Angeles.
He is a Board Member of the Armenian Center for National and International Studies (ACNIS) a Think Tank based in Yerevan-Armenia, and serves on boards of several non-profit organizations. He is a Board member of the Armenian Bar Association and the Co-Chair of its Armenian Rights Watch Committee. Also, he is an Honorary Member of OIA.
.
……..