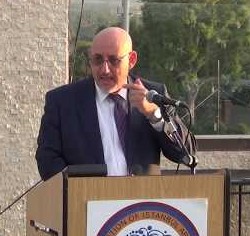 ….
OIA Auxiliary Membership Ceremony (Video)
 ————————————————–
OPEN LETTER OF GRATITUDE
TO
THE ORGANIZATION OF ISTANBUL ARMENIANS—OIA
— By Garo B. Ghazarian
My fellow Bolsa-Hyes — I do like the sound of that! This past Sunday you bestowed great fortune and honor by designating me an "Honorary Bolsa-Hye."
As the newest proud member of the beloved and storied Organization of Istanbul Armenians*—the OIA, with my deep gratitude, I share a few of my thoughts and feelings on the privilege of joining you as well as OIA's 1st honoree—the inimitable Oshin Keshishian—in becoming your 2nd honorary member:
The momentous occasion on September 15, 2019, commemorating the legacy of the late Prof. and Genocide Scholar Vahakn Dadrian, an evening during which Genocide Scholar Prof. Taner Akcam was recognized with the inaugural "Vahakn Dadrian Scholar Award," the title you gifted me with by formally designating me as an honorary Bolsa-Hye—and of all days on late Hrant Dink's birthday—will forever be ingrained in my memory. Being surrounded with the very best people—by each of you—is one which I will cherish and remember when strength is needed to carry on, when faith fuels feelings of faltering, when willpower is tested by daily challenges, and when dark clouds loom large above our path threatening to darken our people's and nation's path—the Armenians' collective path.
For more than four (4) decades you have opened your doors and your hearts to all. I am but one of the countless who have walked through your open doors. And in all that time, you have affirmed time and again—in an astonishing way—the essential connectedness of humanity, and your commitment to all things Armenian.
Never has the OIA failed in being one with our people and community. Never have you failed at being inclusive while being innovative. You have been invigorating. Yours are unique expressions of the human imagination and heart, unique answers to a fundamental question. What does it mean to be an Armenian and alive? Ours—as Armenians—is a journey with challenges that will confront us as a people. Ours is a never-ending journey. And while there are those who strive to make tomorrow relevant, you make today and every day relevant. You make all of us relevant.
I embrace the privilege of OIA membership and join your continuing exploration of the fullness of promise, and of pushing the boundaries of knowledge forward. I pledge to contribute not just to the OIA, but hand in hand with the members of OIA, for all of our people. Together we shall continue to serve the Armenians of today, so that tomorrow dreams may be realized, our dreams, and the dreams of past generations of Armenians.
From the bottom of my heart, I am grateful. My special thanks to His Eminence Archbishop Hovnan Srpazan Derderian for his blessings and kind words, and to my dear friend, Armenian Bar Association comrade of many years, and the Chairman of OIA's Board of Trustees Edvin Minassian. I sincerely thank each and every one of you, the Bolsa-Hye community at large, the membership of the OIA, its Board of Trustees, and its Executive Committee:
Mr. Karapet Akpulat, Mr. Edi Sarafoglu, Dr. Mark Kosker, DC, Mr. Hagop Halici, Mr. Herman Yaylaoglu, Dr. Ohannes Kulak-Avedikyan, OMD, Mr. Serj Bulanikian, Mr. Garo Kurian, Mr. Garbis Sarafian, Mr. Vace Kilavuz, Mr. Aret Binati, Mr. Sevag Shirvanian, Esq., Dr. Arek Balci, DDS, Ms. Talin Sarafoglu, Ms. Talin Yaylaoglu, Ms. Rosalin Madoyan, Ms. Mari Khatchikian, Mr. Anto Paylan, and Mr. Yetvart Hacatoryan.
Together, we shall #AbsolutelyRiseFiercely!
— Garo B. Ghazarian
————————————————————
*The Organization of Istanbul Armenians—OIA was established in 1976. Its original purpose was to provide assistance with housing, jobs, and basic necessities to newly arrived immigrant Armenians from Istanbul and other parts of Turkey in the 70's and 80's. Once people were settled in Southern California, OIA began to provide financial aid to Armenian Students attending Armenian Schools, and to this day, need and merit based Scholarship Assistance remains it's most important mission. There are several Endowment Funds within the OIA for education and assistance to the needy, and which support cultural activities. The Ladies Auxiliary was the first sub-committee to operate within OIA and was followed by Getronagan Alumni, Scholarship Committee, Esayan Alumni, Sports Committee, YGIA, Akhtamar Dance Ensemble, Cultural Committee, Mkhitaryan Alumni, Hye Ties, YAN, Kids Club, Dance Club, and Entertainment and Social Events Committees. OIA regularly participates in relief funds for Armenian causes. Today, it provides scholarships to hundreds of undergraduate and graduate students across the country, and hosts Cultural Events and reunions of Armenian Schools from Istanbul. In the 43 years of its existence, the OIA has hosted many dignitaries, among them the Catholicos' of all Armenians Vazken I, Karekin I and Karekin II, Patriarchs of Constantinople, and many notable political leaders, including member of Turkish Parliament Garo Paylan and LA's current Mayor Mr. Eric Garcetti, previous Mayor Mr. Richard Riordan, then Los Angeles County District Attorney Mr. Gil Garcetti, Senior member of Los Angeles County Board of Supervisors, Mr. Michael Antonovich, AGBU President Louis Manoogian-Simone, Historians Prof. Vahakn Dadrian, Taner Akcam, Writers Migirdich Margosyan, Fethiye Cetin, Ragip Zarakolu, Hasan Cemal, the late Hrant Dink, Rakel Dink, activists Aris Nalci, Sayat Tekir, scholar Umit Kurt, and many others. With more than a 1000 members strong, the OIA remains true to its founding principles of 43 years ago: support for Armenians around the world, and advancement of social and cultural awareness within and beyond the Armenian community.
 …
 .
ԻՐԱՒԱԲԱՆ
ԿԱՐՕ  ՂԱԶԱՐԵԱՆ
Կարօ Ղազարեանը դատական ​​դատավարութեան փաստաբան է և Քրէական պաշտպանական ձեռնարկութեան գլխաւոր տնօրէնը ՝ Էնսինօ, գալիֆորնիա նահանգին մէջ: ան կը վարէ ԱՄՆ-ու Դաշնային դատարաններուն մէջ white collarի բարդ քրէական գործերու պաշտպանութիւնը, ինչպէս նաև գալիֆորնիայի նահանգի դատարաններուն մէջ Ֆելոնիի և misdemeanor լուրջ իրաւախախտումները: ան պարբերաբար կը դասավանդէ հայ իրաւագիտութեան ուսանողներուն համար, որոնք յաճախակի պահեր կ՛անցնեն Իրաւաբանական իր գրասենեակին մէջ և կը վայելեն անոր խնամակալութիւնը: ան յայտնուած է որպէս ազգային և համաշխարհային հեռուստատեսային լրատուական շատ հաղորդումներու մեկնաբան, ներառեալ Al-Jazeera English News- ը, CNN- ը և FOX TV News-ը: ան լայն դասախօսութիւններ ունեցած է quantico վըրճինիայ.-ի fbi ակադեմիային մէջ: գալիֆորնիայի Շերիֆի ակադեմիաներու մէջ; գլխաւոր համալսարաններ ԱՄՆ-ու մէջ, Հայաստան և այլուր; և ան ուաշինկթընի մէջ գործող Ազգային ռազմավարութեան տեղեկատուական կեդրոնի (NSIC) ազգային կեդրոնի նախկին ուսուցիչ է:
2011 թվականէն ի վեր կարօն կը ծառայէ որպէս Քաղաքացիական ծառայութեան յանձնակատար կլէնտէյլ քաղաքի մէջ; ան նաև երկու ժամկէտ ծառայած է որպէս Հայաստանի փաստաբաններու ընկերակցութեան Կառավարիչներու խորհուրդի նախագահ (2012-2014) և ներկայիս կը ծառայէ որպէս իրաւապաշտպան դիտորդներու յանձնաժողովի (ARWC) համանախագահ:  ան Լոս Անճէլըսի peoples իրաւաբանական քոլէճի նախկին deanն է և իրաւագիտութեան փրօֆէսըր (1996-2017): Եւ ան երկար ժամանակ Ազգային և միջազգային հետազօտութիւններու հայկական կեդրոնի (ACNIS) Խորհուրդի անդամ է, a thin-tank, որ հիմնուած է Երևան-Հայաստանի մէջ:
Աքթիւիսթ և քաղաքացիական իրաւունքներու երկարամեայ ջատագով ՝ Ղազարեանը անթիւ անգամներ ճամբորդած է Հայաստան և Արցախի լեռնային հանրապետութիւն: ան դիտարկած է 2012-ի խորհրդարանական և 2013-ի նախագահական ընտրուիթւնները Երևանի մէջ: 2014-ին ան շտապեց Մերձաւոր Արևելք ՝ Քեսապի հայերը որոնելու և օգնելու համար, որոնց քաղաքը և գիւղերը ներխուժուած են Սուրիոյ կողմէն Թուրքիոյ սահմանէն ծագում առած զինուած զինեալներ: կարօն բազմիցս ներկայացումներ անցուցած է Հայաստանի մէջ ընտրական դիտորդներու եւրոպական տարբեր խումբերու առջև, ինչպէս նաև բազմաթիւ հարցազրոյցներ տուած է Սուրիահայերու ծանրակշռի մասին միջազգային լրատուամիջոցներուն: 
2012 թուականէն 2015 թուական, ան աշխատած է որպէս Արևմտեան Միացեալ Նահանգներու Հայոց ցեղասպանութեան 100-րդ տարելիցի յանձնաժողովի համանախագահ և AGCC-WUSA) և եղած է «Մարտի համար արդարադատութեան կոմիտէի» (M4J) նախագահ, որ պատրաստած է 166,000 ուժեղ արշաւ՝ 24 ապրիլ, 2015-ին, Լոս Անճէլըսի մէջ:
GARO GHAZARIAN, ESQ.,
 Garo Ghazarian is the Chief Litigation Attorney and the Principal of a Criminal Defense firm in Encino, CA. He handles defense of complex white collar criminal cases in Federal Courts throughout the U.S., as well as serious Felony and Misdemeanor offenses in California State Courts. He regularly mentors Armenian law students who frequent his Law Office and enjoy his tutelage. He has appeared as a commentator on many national and worldwide television news programs, including Al-Jazeera English News, CNN, and FOX TV News. He has lectured extensively at FBI Academy in Quantico VA; at Sheriff's Academies in California; major universities in the US, Armenia, and elsewhere; and, he is a past instructor at the National Strategy Information Center (NSIC) in Washington D.C.
Since 2011, Garo has been serving as a Civil Service Commissioner in the City of Glendale; he has also served two terms as Chairman of Armenian Bar Association's Board of Governors (2012-2014), and is currently serving as the Co-Chair of its Armenian Rights Watch Committee (ARWC). He is the former Dean and a Law Professor at Peoples College of Law in Los Angeles (1996-2017). And, he is a long time Board member of the Armenian Center for National and International Studies (ACNIS), a Think Tank based in Yerevan-Armenia.
An activist and a longtime advocate of Civil Rights, Ghazarian has travelled to Armenia and the Mountainous Republic of Artsakh countless times. He has observed the 2012 Parliamentary and 2013 Presidential elections in Yerevan. In 2014 he rushed to the Middle East in search of and to aid the Armenians of Kessab whose town and villages were invaded by armed militias originating from Turkey's border with Syria. Garo has made multiple presentations before various groups of European Election Observers on the ground in Armenia, and has given many interviews about the plight of the Armenians of Syria to international news outlets. From 2012 thru 2015 he served as the Co-Chair of the Armenian Genocide Centennial Committee for the Western United States (AGCC-WUSA) and was the Chairman of the "March For Justice Committee" (M4J), which produced the 166,000 strong outing on April 24, 2015, in Los Angeles.