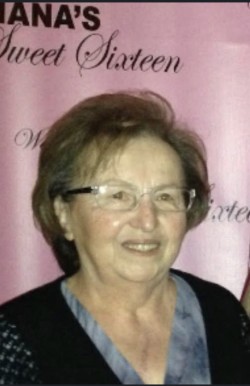 Mrs. Filor Kesenci (1940-2019) 


1st Year Requiem Service

Mrs. Filor Kesenci 
(Sivas-Gemerek May 19, 1940 –
Los Angeles November 6, 2019)
Former Member of  OIA Ladies Auxiliary Committee
1st Year Requiem  Service will be held


On Sunday , November 8, 2020 1:30 PM
Oakwood Memorial Park 
22601 Lassen Street, Chatsworth, Ca. 91311 
Memorial Park Management requires
Wear a mask  and keep social distancing  
…
Survived By, 
Her Husband : Mr.  Kazaros Kesenci
Her Son: Mr. & Mrs. Berj and Lusin Kesenci and their children Sevan & Christian
Her Son: Mr. & Mrs. Nuran and Jbid Kesenci and their children Tatiana & Leanna
Her Mother: Mrs. Dzaghig  Demirdogen
Her Brother: Mr. & Mrs. Parseg and Nazan Demirjian
(Mr. Parseg: Former Member of OIA Board of Directors)
Her Sister: Ms. Agavni Demirjian
Her Sister:  Mr. and Mrs. Hirac and Vartuhi  Cakiryan & their daughter Ani
Her Aunt: Mrs.Yester  Sakaryali and her daughter Vartuhi 
Her Nephew: Mr. & Mrs. Ari and Olga Demirjian & their children 
(Mr. Ari: Former Member of OIA Scholarship Committee)
 Her Nephew: Mr. & Mrs. Aras and Tina Demirjian & their daughter
Extended Families:  Yelyan, Ishanyan, Kesenci,  Sucu, Uykan, Gulmez, Gullep, Nizamyan, Demirdogen, Yurtgulu, Polat, Tuzuturk, Seran. Gurgen and Usoglu.
 Dear extended Families & Friends 
..
Contact:  Mrs. Jbid Kesenci (818) 640 7048
..