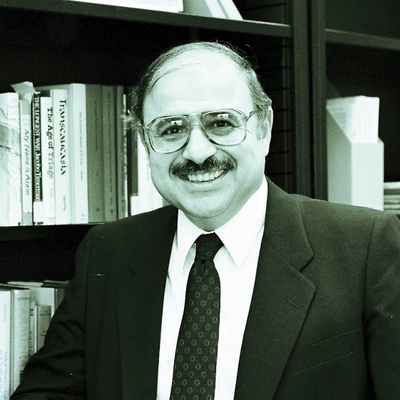 11
 …
 A S B A R E Z
Ոչ Եւս Է Հայագէտ Դոկտ. Տենիս Փափազեան
Միշիկընի համալսարանի Տիրպորնի մասնաճիւղին մէջ գործող Հայկական ուսումնասիրութիւններու կեդրոնը կը տեղեկացնէ, թէ իր մահկանացուն կնքած է կեդրոնի հիմնադիրը եւ առաջին վարիչը՝ դոկտ. Տենիս Փափազեան։
Դոկտ. Փափազեանի ջանքերով կարելի եղած էր 1985ին հիմնադրել հայագիտական նշեալ կեդրոնը, Եդուարդ եւ Հելէն Մարտիկեաններու եւ «Վարդանի Ասպետներ»ու նիւթական աջակցութեամբ: Դոկտ. Փափազեան հանգստեան կոչուած էր 2006ին։
Ան նաեւ երկար տարներ եղած էր Հայագիտական ուսմանց ընկերակցութեան (SAS) նախագահը եւ գանձապահը ու խմբագրած էր ընկերակցութեան պարբերաթերթին 6-11րդ թիւերը։
Դոկտ. Տենիս Փափազեան նաեւ հեղինակած է յուշագրական՝ From My Life and Thought: Reflections on an Armenian-American Journey

 հատորը։
Veteran Academician Dr. Dennis Papazian Passes Away
Dr. Dennis Richard Papazian, 91, passed away peacefully on Thursday, March 16, 2023 after a brief illness. Born the youngest of four children in Augusta, Georgia to Armenian parents from Istanbul, Turkey, Dennis lived a life of devotion and service to his community, church, and nation. His family moved to Detroit, Michigan in the mid 1940s to join a growing Armenian community. As his family struggled to create a life in a new land, Dennis was determined to pursue an education that would ensure a life of security and the promise of the American dream. Across the arc of his life, Dennis was recognized as a distinguished leader and pillar of the Armenian community, with significant achievements in academia, political advocacy, and church stewardship.
As a young man, Dennis was nurtured by numerous mentors such as Archbishop Tiran Nersoyan and Professor George Naknikian, whom he came to know through the Armenian church community and as a student leader at Wayne State University. During these years, his leadership abilities continued to grow, as he encountered prominent leaders, including two American presidents and a former First Lady. The youngest of four siblings, Dennis was the first in his family to earn a college degree, ultimately earning a Ph.D. in Russian history from the University of Michigan, Ann Arbor, and becoming one of the first American students to study in the then Soviet Union during the height of the Cold War. This experience placed him at the center of major geopolitical events that influenced the course of his life. He also was active in the Armenian Church Youth Organization of America, serving on the Central Council and traveling frequently from Detroit to New York, something he would do years later as a member of the Diocesan Council for the Eastern Diocese of the Armenian Church. Dennis's time in the Soviet Union led him to become an esteemed analyst as the Soviet Union broke apart decades later.
Upon his return to Michigan in 1962 following his recovery from a near fatal air crash in Uzbekistan, Dennis went on to live a life of contribution and service and became a key leader in the emergence of an Armenian-American community just finding its footing fifty years after the 1915 Armenian Genocide. For over forty years, Dennis enjoyed a distinguished academic career as a noted author, speaker, and professor of history specializing in Russia and the Soviet Union. Dennis's tenure at the University of Michigan, Dearborn started in 1962, when he joined the faculty. Soon after, he began serving as head of the department of social and behavioral sciences. From there, he oversaw the division of literature, science and the arts, then briefly held the title of associate dean of academic affairs. In his early years, Dennis led the expansion of the Dearborn Campus from a upper two-year college to a four-year university. In 1985, he founded the Armenian Research Center at the University of Michigan, Dearborn and served as its first director until his retirement in 2006. As a result of his tutelage and leadership, several of Dennis's students went on to work for the CIA, the State Department and other government agencies. He also served as an authority on Russia and the former Soviet Union for numerous media outlets and as an expert resource in dozens of refugee and asylum cases from the former Soviet Union and its successor republics.
In addition to his role as an educator and scholar, Dennis served tirelessly as a forward-looking and creative leader of the emerging Armenian-American community, where he worked with leaders such as Alex Manoogian, Edward and Helen Mardigian, Stephen Mugar, Hrair Hovnanian, Richard Hovannisian, and many more. Dennis was the founding executive director of the Armenian Assembly of America, a national organization whose mission is to promote public understanding and awareness of issues affecting Armenian-Americans. Under his leadership, the Armenian Assembly worked with key elected officials to secure passage of the Armenian Genocide Resolution in the United States House of Representatives. He also brought together several Armenian organizations to apply for and receive $1 million in grant funds from the U.S. Agency for International Development (USAID) for the Aid to Lebanon project which supported the Armenian community in the Bourj Hamoud neighborhood of Beirut during the 1975 Lebanese Civil War. Dennis pitched to and worked with National Geographic to create a piece about the Armenian-American community entitled "The Proud Armenians," which was published in 1978.
Dennis traveled extensively during his career, presenting papers and delivering lectures in Armenia, Germany, Austria, the Czech Republic, Israel and several other countries. At one point in his career, he conducted research on the USSR and personally worked with the State Department to coordinate an exchange between the University of Michigan and Moscow State University. In 1976 Dennis received an award from the U.S. Department of State honoring his work as a scholar and diplomat, which was followed by a grant from the National Endowment for the Humanities in 1977 and an award from the USAID in 1978.
Together with his wife Mary, the former President of San Jose State University, whom he married in 1991, Dennis was an ardent and faithful member of the Armenian community throughout his life. He represented the Eastern Diocese of the Armenian Church of America on the Supreme Spiritual Councils held in Etchmiadzin, Armenia that elected Catholicos Karekin I (1995) and Catholicos Karekin II (1999) and participated in several Armenia-Diaspora conferences in Armenia during the early years of independence. Dennis served on numerous boards and panels related to education and civic outreach, such as the Society for Armenian Studies, St. Nersess Armenian Seminary, the National Association for Armenian Studies and Research, the Michigan chapter of the American Red Cross, the Michigan Ethnic Heritage Association, and, most recently, as a member of the New Jersey Commission on Holocaust and Genocide Education. He held numerous leadership roles in the Armenian community, including president on several occasions of the Society for Armenian Studies, advisor to the annual Times Square Armenian Genocide Commemoration, member of the Diocesan Council of the Eastern Diocese of the Armenian Church, and as Grand Commander of the Knights of Vartan, an Armenian fraternal organization.  He also has been affiliated with the American Association of University Professors, the National Association for Ethnic Studies, the Association for Slavic, East European and Eurasian Studies, and the American Academy of Political and Social Science.
Throughout his career, Dennis spoke to audiences large and small on topics ranging from Russian and Soviet history, Armenian Genocide recognition, theology and the Armenian church, among many other topics. He authored numerous essays, articles, books and op-eds, served as editor of the Journal of the Society for Armenian Studies (JSAS) from 1995 to 2001, and recently completed his memoir, "From My Life and Thought: Reflections on an Armenian-American Journey," which was published in May 2022 by The Press at Fresno State University, as part of their Armenian Studies series. Dennis holds a Bachelor of Arts and Master of Arts from Wayne State University, a Master of Arts and Doctor of Philosophy from the University of Michigan, Ann Arbor, and an honorary Doctor of Humane Letters from the Armenian State Pedagogical University in Yerevan, Armenia.
Dennis is survived by his wife Mary; his daughters Ani and Marie; nieces Louise Yardumian (Haig), Elise Papazian, Melody Lopez (Marc), and Vicki Ware (Hank); nephews Leon Sarkisian (Sharon) and Garo Papazian; great-niece Nicole Papazian; great-nephews Edward Yardumian (Eva), Ara Yardumian (Tatiana), Nishan Papazian, Alex Lopez, and Christian Lopez; great-great-nieces Kennedy Yardumian and Valentina Yardumian; great-great-nephews Eli Yardumian and Edward Yardumian; brothers-in-law Robert Arshagouni (Manya), Michael Arshagouni (Ned Rodriguez), and Paul Arshagouni (Long Hoang); nieces Nina Arshagouni (Matt Pugmire), Liana Arshagouni, and Beth Arshagouni; and great-nieces Alik, Aida, and Maro Arshagouni; as well as dozens of extended family members, colleagues, and friends. He will be deeply missed.
There will be memorial services in his honor on various days across the country. Visitation will be held at St. Andrew Armenian Church in Cupertino, CA on Thursday, March 30 at 6:00 pm with a prayer service at 7:00 pm. The funeral service will take place at St. Leon Armenian Cathedral in Burbank, CA and will be officiated by His Eminence Archbishop Hovnan Derderian on Tuesday, April 4 at 9:30 am. A graveside service will follow at Forest Lawn Hollywood Hills, with a memorial luncheon to follow. A 40-day memorial service will take place at St. John's Armenian Church in Southfield, MI on Sunday, April 30, with a reception to follow. A Celebration of Life will take place in the New York/New Jersey area later this year, with details to follow.
In lieu of flowers a donation can be made to the Dennis R. Papazian Memorial Foundation for advancing Armenian scholarship, education, and leadership. Donations can be mailed to the Dennis R. Papazian Memorial Foundation in care of Robert Arshagouni, 9176 Independence Avenue, Chatsworth, CA 91311.
The Armenian Research Center at the University of Michigan-Dearborn expresses its deep sorrow and sympathy for the family of Dr. Dennis Papazian on the occasion of his passing. Dr. Papazian was the Center's Founder and first Director. It was his vision that saw the establishment of the Armenian Research Center in 1985, and his efforts that saw it funded via a permanent endowment, with generous donations from his friends, the late Edward and Helen Mardigian, and the local and national organizations of the Knights of Vartan. The Center was the first such Armenological research institute attached to a university in the United States.
In addition to his numerous services as long-time faculty member and administrator at the University of Michigan-Dearborn, Dr. Papazian worked diligently as Director of the Center for over two decades – until his retirement in 2006 – to increase the holdings of its impressive special collection of books, periodicals, audio/visual items and archive material, to launch a publishing program, to extend scholarly opportunities both to young researchers and established scholars, to help establish the George and Isabelle Elanjian scholarship fund for students, and to continue the offering of Armenian language courses for students on the UM-Dearborn campus through the sponsorship of the Center.
Dr. Papazian was also a longtime president and treasurer of the Society for Armenian Studies (SAS), and the Armenian Research Center became its first permanent secretariat. He also edited volumes six to 11 of the "Journal of the Society for Armenian Studies," when it was published by the Armenian Research Center on behalf of SAS.
Dr. Papazian is survived by his wife, the noted academic administrator Dr. Mary Papazian and two daughters, Marie and Ani.
The current staff at the Armenian Research Center will long cherish the blessed memory of Dr. Papazian and will try hard to build further upon the foundations which he set.
.
Prof. Taner Akcam
With great sadness, I received the news of the passing of my beloved Dennis Papazian. Dennis was a significant person to me. My adventure in the USA started thanks to him.
If it were not for Dennis Papazian, I might not be working on the Armenian genocide—and certainly not here because his invitation to the United States made it possible for me to continue my work on the subject.
Dennis not only invited me as a scholar, but he also opened his home to me. He made me part of his family.
Dennis' sister Rose became my first English teacher.
His daughter Ani was my daughter's first friend in America.
One of the photos is from 2000 when I first arrived in Dearborn. Dennis organized an event for me, and I spoke Turkish
Naturally, I owe Dennis and his family an immense debt of gratitude. My condolences to the whole family, his loved ones, and his friends. Dear Dennis, may you rest in peace. We remember you…
Çok büyük bir üzüntü ile sevgili dostum, arkadaşım Dennis Papazian'ın vefat haberini aldım. Dennis benim için çok özel birisi idi. Amerikaya onun sayesinde geldim. Vahakn Dadrian'ın ricasını kırmamış, beni kurucusu olduğu Michigan Armenian Research Center'a çağırmıştı. Resimlerden birisi, ilk geldiğimde Dennis'in benim için organize ettiği toplantıdan… Türkçe konuşmuştum.
Dennis sadece bir akademisyen değildi benim için; bana evinin kapısını açtı. Rahmetli kız kardeşi Rose benim ilk İngilizce öğretmenim idi. Dennis'in büyük kızı Ani, benim kızım Helin'in Amerika'daki ilk arkadaşı idi.
Dennis'e o kadar çok şey borçluyum ki… Onu unutmam mümkün değil, benle birlikte yaşayacak.
Tüm ailesine, dostlarına ve sevenlerine baş sağlığı dilerim. Sevgili Dennis rahat uyu, çok güzel şeyler sığdırdın hayatına…
.
 

C
Dr. Dennis R. Papazian was the founding director of the Armenian Research Center at the University of Michigan Dearborn (UM-Dearborn). A graduate of Wayne State University in Detroit, MI, Papazian earned his PhD in history from the University of Michigan, Ann Arbor, in 1966. His dissertation was entitled Nikolai Ivanovich Kostomarov: Russian Historian, Ukrainian nationalist, Slavic Federalist. He was a faculty member at the UM-Dearborn from 1962 onward, and a full professor of History from 1971 to 2006. He taught courses in Russian and Armenian history, as well as on historiography, world history, European history, U.S. diplomatic history. He headed at different times the University's Department of Social and Behavioral Sciences (1966-1968), the Department of Social Sciences (1968-1969), as well as the College of Arts, Sciences, and Letters (1969-1973). Among other administrative positions, he also was Director of Graduate Studies (1979-1985). In parallel to directing the ARC, Papazian also served as President of the Society for Armenian Studies (1988-1991, 1997-2001) and was the editor of volumes 6 to 11 of the Journal of Society for Armenian Studies (1995-2001).
Papazian has been a prolific scholar. He has presented numerous papers, delivered academic presentations and lectures for a variety of audiences. He has authored many articles, book reviews, reports, op-eds and given interviews to media outlets on matters of his expertise. A select list of his important publications is provided below.
Papazian was active in Armenian-American affairs and advocacy. He was chairman of the Board of Directors of the Alex Manoogian Cultural Fund from 1969 to 1977. In this period, he also served as a member of the Board of Directors of the National Association for Armenian Studies and Research (1967-1971), the Diocesan Assembly of the Eastern Diocese of the Armenian Church of America, and the Board of Trustees of the St. Nersess Armenian Seminary in 1985-1997.
In 1975 Papazian took a leave of absence from the UM-Dearborn for four years to serve as Director of the Armenian Assembly in Washington, D.C. During this period and after, he was active in Washington, D.C., meeting with U.S. and foreign officials, and building contacts with many Michigan senators and House representatives.
Papazian has long been a member of the Knights of Vartan fraternal organization with which he founded the ARC. He was Commander of the Nareg (now Nareg-Shavarsan) Lodge in 1988-1989 in Michigan, and Grand Commander of the national Knights of Vartan in 2010-2012.
.
.
.
,
,