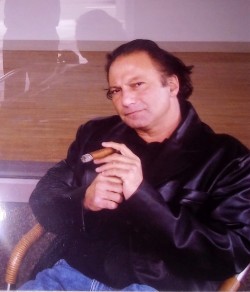 ..
Mr. 

Arman Bakirci

(1960-2019)


 Funeral Announcement.

Mr. 

 

Arman Bakirci


(Istanbul 1960 – Los Angeles 2019)
Survived By, 
His wife  Mrs. Talin Bakirci,
His Son Mr. Garbis Bakirci and  fiancé Miss. Paitzar Giourdjian
and her family,
His Daughter Natalie Bakirci,
Talin's parents Incenci family.

His Brother Garo and his wife Alice and
her mother Hilda Sakarya,
His Niece Arlene
His nephew Allen Bakirci's family
including wife Nelly and their son Hayk
Dear friends and extended families
………
Funeral Services will be held 
On Saturday September  7, 2019 at 9:30 A.M.
at St. Peter Armenian Apostolic Church


17231 Sherman Way, Van Nuys, CA 91406


——
Followed by Interment Services:




at Oakwood Memorial Park




22601 Lassen Street. Chatsworth, CA 91311
——-
Following the service
a memorial luncheon shall be served
at Nairi Banquet Hall
5075 Hollywood Blvd, Los Angeles, CA 90027
(323) 666-9911
.
It is the wish of the family that in Lieu of Flowers,
Donations in his memory be made to:
Organization of Istanbul Armenians
.
Contact:
Mr.
Garbis Bakirci

  818.219.5505
….
On behalf of the Organization of Istanbul Armenians Board of Trustees,
Executive,  and all the committees, we convey our heartfelt condolences to
Mrs. Talin Bakirci,,
Mr. Garbis Bakirci and  fiancé Miss. Paitzar Giourdjian
His Daughter Natalie Bakirci,
His  family, relatives and friends.
Praying for his departed soul
.
B I O G R P H Y
Arman Bakirci was born February 23, 1960 in Moda Istanbul Turkey, to parents Sarkis and Varsenik Bakirci.  He attended Aramian Uncian Grade school, then went to Getronagan High School. Arman came to the United States in 1980, to attend the University of La Verne where, he majored in Business Administration and graduated in 1984. That same year, Arman proposed to Talin, and two years later, they were married in 1986.  In 1987, Arman joined a partnership and created his first business called Tri-Pacific Group. In 1988, Arman became a father with the birth of his son, Garbis Bakirci, and the family welcomed their daughter, Natalie Bakirci in 1994. Arman eventually started his own real estate business, Showcase Mortgage in 1994, and has since been self employed as a real estate broker.  Arman was devoted to his family and friends and worked very hard for them until he passed away.
..
—