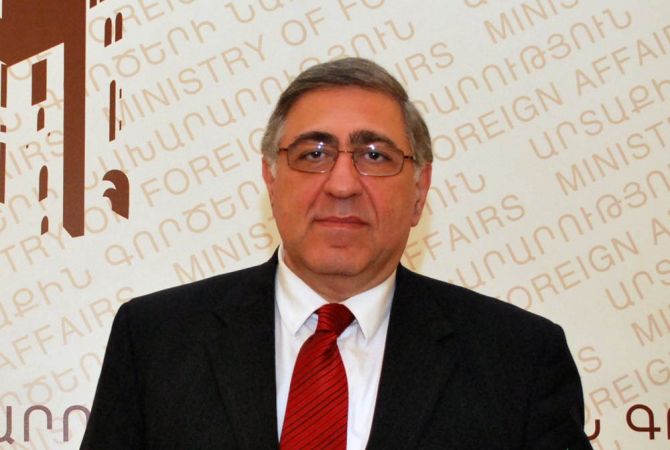 ..
.
Armenia's Ambassador Extraordinary and Plenipotentiary to the United Kingdom of Great Britain and Northern Ireland Arman Kirakosyan passed away today aged 63, the Ministry of Foreign Affairs informs.
"From the first day Arman Kerakosyan has been standing in the origins of newly-independent Armenia's diplomatic service and foreign policy, and has made an invaluable contribution," the Ministry said.
It offered condolences to Ambassador Kirakosyan's family and "all those who mourn his death."
President Armen Sarkissian also offered condolences over the demise of "an old friend" Arman Kirakosyan.
"Our family has lost a true friend and a brilliant person, the meeting with whom was always expected, pleasant and helpful," the President said.
==========================================
(Wikipedia)
Biography
Publications
Kirakossian was an author of books and more than 120 publications. Four of his books were published in English:
British Diplomacy and the Armenian Question (Gomidas Institute, Princeton and London, 2003),
The Armenian Massacres 1894-1896: U.S. Media Testimony (Wayne State University Press, Detroit, 2004),
Armenia-USA: Current Realities and Vision for Future (Yerevan State University Press, 2007),
The Armenian Massacres 1894-1896: British Media Testimony (Armenian Research Center, University of Michigan, Dearborn, 2008).
He was Professor of History and International Relations at the Yerevan State University.
Recognition
Kirakossian was decorated with:
Gold Medal of City Athens (1999),
Commemorative Medal (2001),
Medal of "John Kirakossian" (2009) of the Ministry of Foreign Affairs of Armenia,
Gold Medal of the Yerevan State University (2006),
State Medal of Mkhitar Gosh for significant services in the sphere of diplomacy.
.