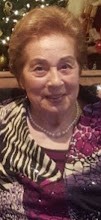 .
…..
Passing News
It is with great sadness and profound sorrow that we announce the untimely passing of
Mrs. Lusin Kutlu  (1938-2023)
——–
On behalf of  OIA Board of Trustees, OIA Executive Committee  and all the committees, we convey our heartfelt condolences
To
Her Son:  Mr, Aret Kutlu
Her Daughter:  Janet Cicek
and
Her Grand Children
Funeral  Information  will be Announce Shortly.