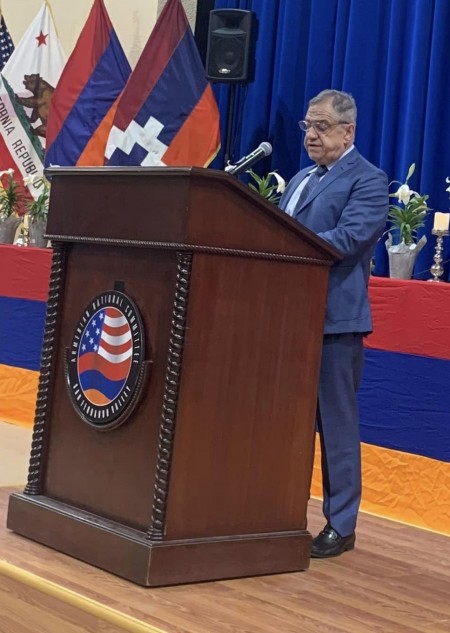 DEAR COMPATRIAC:
FIRST GENOCIDE OF THE 20TH CENTURY WAS OVER 108 YEARS AGO.
AS ARMENIANS WE ALL KNOW TOO WELL HOW THE OTTOMAN TURKS THOUGHT THEY COULD BURRY US FOR GOOD,  BUT THEY DID NOT KNOW THAT WE WERE SEEDS THAT WOULD GROW TO FORM GLOBAL NATION.
WE ARE A NATION THAT HAS BUILT CHURCHES, SCHOOLS, SERVICE CENTERS AND MUSEUMS.
WE HAVE BUILT SUCCESSFUL BUSINESSES AND FORMED CULTURAL ORGANIZATIONS, SETTING UP  ARMENIAN STUDIES PROGRAMS, ADVANCING OUR HISTORY, LITERATURE, LANGUAGE  ARTS  SCIENCE AND TECHNOLOGY,
AND WE STILL FIGHT HARD TO THIS DAY FOR THE RECOGNATION OF ARMENIAN GENOCIDE.
WE PURSUE ECONOMIC DEVELOPMENT AND WE PUT PRIORITY ON EDUCATION FOR OUR YOUTH.
NATIONAL GEOGRAPHICS HAS SPOTLIGHTED ARMENIA AS ONE OF THE BEST PLACES TO TRAVEL.
THE WORLD AROUND US, HOWEVER,  HAS CHANGED.
GEOPOLITICAL ALLIES HAVE RE-ALIGNED IN A TRANSACTIONAL WORLD DEFINED AND SHAPED BY MILITARY TECHNOLOGY THAT OUR ADVERSARIES CONTROL AGAINST US.
WE NEED TO ASK OURSELVES WHAT WE WILL DO TO MEET THE CHANGING WORLD, THE NEW CHALLENGES, AND THE EXISTENTIAL THREATS AS WE SEE THE ARMENIANS OF ARTSAKH TORTURED BRUTALLY AND EVERY TRACE OF OUR THOUSANDS OF YEARS OF EXISTENCE ERASED FROM OUR LANDS.
IT MAY NOT BE EASY, BUT WE HAVE CONTRIBUTED SO MUCH TO THE WORLD AND TO HUMANITY, THAT WE AND OUR FELLOW HUMAN BEINGS DESERVE TO KNOW WHO WE ARE.
AFTER ALL,  WHO HAS DEVELOPED MORE GAME CHANGING INVENTIONS TO IMPROVE THE QUALITY OF LIFE FOR ALL THAN THE ARMENIANS?  THERE ARE SO MANY, BUT HERE ARE  JUST A FEW EXAMPLES FROM A FEW CATAGORIES
IN MEDICINE,
n  RAYMOND DAMADIAN INVENTED THE MRI DIAGNOSTIC TOOL
n  EMIK AVAKIAN INVENTED THE BREATHING OPERATED COMPUTER FOR THOSE WITH SEVERE DISABILITIES INVOLVING MOVEMENT DISORDERS
n  IN MEDICINE WE HAVE THE NOBEL LAUREATE MOLECULAR BIOLOGIST AND NEUROSCIENTIST DR. ARDEM PATAPOUTIAN WHOSE WORK HAS ADVANCED TREATMENTS FOR CHRONIC PAIN.
IN SCIENCE AND ENGINEERING
n  HOVANNES ADAMIAN INVENTED THE COLOR TELEVISION
n  GIACOMO LUIGI CIAMICIAN INVENTED THE PHOTOCHEMICAL DEVICE FOR SOLAR ENERGY
IN THE ARTS
n  ROUBEN MAMOULIAN WAS A PIONEERING, AWARD WINNING FILM MAKER, WHOSE FILM "THE MARK OF ZORO" BECAME THE INSPIRATION FOR TODAY'S "BATMAN" SERIES
n  SERGE TANKIAN, CHER, AND KIM KARDASHIAN HAVE USED THEIR GLOBAL FAME AND FORTUNE FOR THE TO BENEFIT ARMENIANS.
IN GOVERNMENT AND POLITICS
n  GOV. GEORGE DEUKMEJIAN REMAINS THE HIGHEST RATED GOVERNOR IN THE HISTORY OF CALIFORNIA.
n  JACKIE SPEIER, AMONG OTHER DISTINGUISHED ACHIEVEMENTS, SUCCESSFULLY ADVANCED THE ARMENIAN CAUSE AS A MEMBER OF CONGRESS.
EVEN WITH JUST THESE HANDFUL OF EXAMPLES, THE FULL RANGE OF WHAT WE BRING TO THE WORLD TABLE IS AS CLEAR AS IT CAN BE.
HOWEVER, HOW MANY PEOPLE KNOW WHAT THE ARMENIANS HAVE CONTRIBUTED TO HUMANITY?
AND, MORE URGENTLY, WHAT MUST WE DO TO RESPOND TO THE CHANGING CHALLENGES WE FACE SO THAT WE WILL NOT JUST SURVIVE, BUT SO WE WILL THRIVE AND ULTIMATELY ACHIEVE RESTORATIVE JUSTICE?
SO NOW LET US RAISE THE BAR IN HOW WE COMMUNICATE WHAT WE HAVE DONE IN SUCH A WAY THAT EVERYONE WISH THEY WERE ARMENIAN.
NEW LEVELS OF PUBLIC RELATIONS AND COMMUNICATIONS ARE JUST ONE WAY WE CAN MEET THE CHANGING CHALLENGES WE FACE.
WE MUST IDENTIFY AND SUPPORT ARMENIANS WHO ARE GIFTED IN MASS COMMUNICATIONS SO WE ARE RECOGNIZED AND VALUED BY OTHER PEOPLE.
PROTECTING AND RESTORING ARMENIA MUST BECOME THE MORAL IMPERATIVE OF THE DAY, JUST AS IT WAS IN THE DAYS OF THE NEAR EAST RELIEF.  AS ONE STARTING POINT, WE NEED TO GUIDE OUR TALENTED CHILDREN INTO COMMUNICATIONS CAREERS SO THEY CAN HELP SHAPE THE MASS IMAGE AND REPUTATION OF ARMENIA AND ARMENIANS.
CONTINUING TO DEVELOP NEW LEVELS OF THE STRATEGIC POLITICAL POWER THAT CAN PROTECT OUR BELOVED ARMENIA HAS TO BE ANOTHER PRIORITY.
HERE IS AN EXAMPLE OF THE KIND OF LOCAL ADVOCACY WE MUST ADVANCE
WE CAN AND WE MUST BE STRATEGICALLY PLACED IN THE HALLS OF POWER.
WE NEED TO GUIDE OUR CHILDREN INTO CAREERS IN POLICY DEVELOPMENT, PUBLIC ADMINISTRATION, AND DEFENSE SO THEY CAN MAKE THE DECISIONS THAT WILL PROMOTE DEMOCRACY, HUMAN RIGHTS, AND STRENGHTENING.
WE NEED TO GUIDE AND PLACE OUR FUTURE GENERATIONS INTO CAREERS IN FINANCE.  HOW MANY ARMENIANS ARE DETERMINING FISCAL POLICY?
WHAT ABOUT GETTING INTO THE CENTRAL BANKS OF NATIONS?
HOW MUCH CONTROL DO WE HAVE OVER THE MONEY OF NATIONS,  OR OVER THE GENERATION AND DISTRIBUTION OF RESOURCES?
IN CLOSING, I WILL ADD TO THE CHORUS OF VOICES THAT CALL FOR NEW LEVELS OF UNITY AMONG ARMENIANS.
WE ARE A SMALL NATION AND WE SIMPLY CANNOT AFFORD TO FIGHT EACH OTHER.
WE NEED TO ELEVATE, CELEBRATE, AND SUPPORT ONE ANOTHER IN REACHING BOTH INDIVIDUAL AND COLLECTIVE GOALS.
WE NEED HIGH PERFORMANCE TEAMWORK.
WE NEED TO MOVE AS A FORCE THAT IS STRONG AS IT IS DIVERSE.
WE CAN, AND WILL, BE THE UNSTOPPABLE FORCE OF THE 21ST CENTURY.
THANK YOU!
.
.
..
.