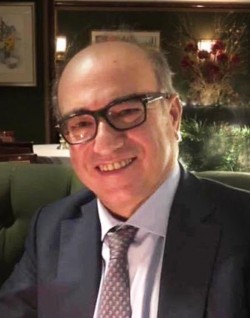 …
   Edvin E. Minassian, Esq.
40th  DAY REQUIEM SERVICE

 Edvin E. Minassian, Esq.
(Istanbul 1963 – Los Angeles 2021)
Chairman,  OIA Board of Trustees
Member,  Pan Armenian  Council  Western  USA
Member, Board of Directors  ACNIS
Frequent  Columnist,  Agos  Newspaper  (Istanbul)
Former  Chairman,  Armenian  Bar  Association
Former  Member, Board  of  Trustees  of
Ararat  Home  of  Los  Angeles
Recipient,  St. Nerses Shnorhali Medal
from H.H. Karekin II Catholicos And  Supreme  Patriarch
of  All  Armenians
….
40th Day Requiem  Service will be held
On Sunday, Oct 31, 2021, at 2:00 PM
at Oakwood Memorial Park
22601 Lassen Street, Chatsworth, Ca. 91311 
Please wear masks and keep social distancing.
( State and LA County Health Regulations
to be strictly enforced )

Survived by 
His mother, Mrs. Aysel Minassian
His brother, Mr. & Mrs. Bertan (Former YGIA Committee Member) and Tilda (Former Scholarship & YGIA Committee Member) Minassian 
 His nephews, Adrian Hayg and Andrew Hagop
His Girlfriend . Ms. Hasmik Keyribarian
His aunt, Mrs. Ayten Sarafoglu
His uncle, Mr. Aydin Bedikoglu
His cousin, Mr. & Mrs. Edi (Vice Chairman of OIA) and Talin (Former Chairlady of OIA Ladies Auxiliary) Sarafoglu 
and their son, Mr. & Mrs. Chris and Pateil Sarafoglu
His cousin, Mrs. Edna Akpulat
and her son, Mr. & Mrs. Alan and Tagouhi Akpulat
Extended Family
Mr. & Mrs. Simon (Former President of OIA Board of Directors) and Hilda (Former OIA Esayan Alumni Chairlady) Acilacoglu
Mr. & Mrs. Arman and Pelo Murat
Mr. & Mrs. Badrig and Arlet Gunter (Muratyan) (Istanbul)
 Mr. & Mrs. Tonis and Lukia Kapsambelis (Athens)
Ms. Anzelika Kapsambelis (Athens)
Mr. Andreas  Kapsambelis (Athens)
Mrs. Vicky Zadenia (Athens)
Mrs. Fifi  Haralambof (Lausanne)
  Contact: . Mrs. Tilda Minassian  (818) 439 9925
..