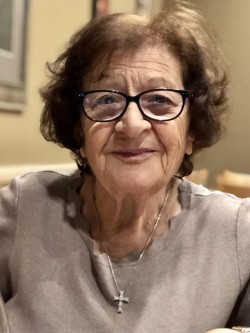 ;…
  Mrs. Maryam Akpulat (1935 – 2021)
40th  DAY REQUIEM SERVICE

Mrs. Maryam Akpulat
Born in Malatya, Turkey on March 1st, 1935 and passed away in Los Angeles, California, United States on August 29, 2021. 
Beloved wife, mother, grandmother, aunt and everybody's best friend. 
40th Day Requiem  Services will be held
On Sunday , Oct 10, 2021, at 1:30 PM
 at Oakwood Memorial Park
22601 Lassen Street, Chatsworth, Ca. 91311 
 (Fountains Section – Lot 124)
Please wear masks and keep social distancing.
( State and LA County Health Regulations
to be strictly enforced )
She is survived by
Her Loving Husband:
Mr Karabet Akpulat
( Honaryry Member of OIA Board of Trustees)
Her Loving Children:
Mr & Mrs Gayzak & Ayda Agopyan
Her Daughter-in-law: Mrs Edna Akpulat
Her Loving Grandchildren:
Mr & Mrs Alan and Tagouhi Akpulat
Mr Andy Agopyan & Miss Sarin Balikian
Miss Clara Agopyan
 
Her Loving Siblings:
Ms Makruhi Danaci (Istanbul)
Ms Vartuyi Oz 
Mr & Mrs Serop and Jeannie Cokvar
Her Amazing Families:
Oz 
Cokvar 
Kodikian 
Danaci 
Gundogdu 
Agopyan 
Akpulat 
Urun 
Basak 
Kanat
                 
Dear friends and extended families
Contact: Mrs. Ayda Akpulat
..