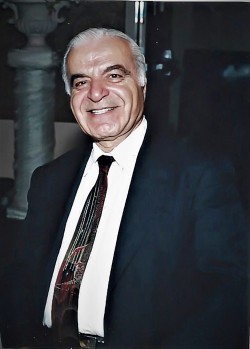 …
   Mr. Hayik Cicekci (1933-2021)
40th  DAY REQUIEM SERVICE

 Mr. Hayik Cicekci 
 (Kayseri-May 30, 1933-Los Angeles- August 18, 2021)
Beloved Husband, Father and Grandfather
40th Day Requiem  Services will be held
On Sunday, Sept 26, 2021 at 1:30 PM
at Oakwood Memorial Park
22601 Lassen Street, Chatsworth, Ca. 91311
(Section – Fountains  70-A)
Please wear masks and keep social distancing.
( State and LA County Health Regulations
to be strictly enforced )
Survived by,
His Wife Mrs. Sake Cicekci
His Son and Daughter in law Herman & Alin Cicekci
(Herman: Former Member of  YGIA)
His Son and Daughter in Law Nuran and Liza Cicekci
(Nuran: Former Member of OIA Ent. Com)
Granddaughter and her Husband Natalie & Bryan Isagholian
Granddaughter Linda Cicekci
Grandson Mark Cicekci
Also, The Cicekci, Dalga, Tekin, Setian, Kazar, Cam,
Azar, Kalayis and Karakulak Families
Dear Friends and Extended Families
Contact:  Nuran Cicekci  (818) 294 4724
..