…
 

Mr. Mitchel Kazanjian (1931-2021)


 Funeral Announcement.
..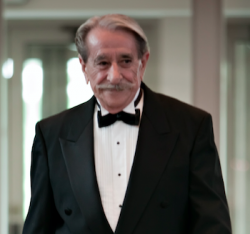 Mr. Mitchel Kazanjian
(Zara, Turkey in 1931 –   Los Angeles, CA 2021)
He is survived by his sons Gregory and John,
their wives Susie and Michelle,
8 grandchildren
and
10 great grandchildren.
Dear friends and extended families
………
Funeral Services will be held 
on Tuesday, May 18, 2021  at 9:30am
at St Leon Armenian Cathedral in Burbank.
——
Please wear masks and keep social distancing.
( State and LA County Health Regulations
to be strictly enforced )
.
It is the wish of the family that in Lieu of Flowers,
Donations in his memory be made to:
Organization of Istanbul Armenians
(pay online) to OIA.
or
Friends of Armenia  for renovations to the Varujan Karian School in Artsakh.
Contact:  Mr.
John Kazanjian 734/260-3327
…….
On behalf of the Organization of Istanbul Armenians Board of Trustees,
Executive,  and all the committees, we convey our heartfelt condolences to
 Mr. & Mrs.Gregory and Susie Kazanjian
Mr. & Mrs. John and Michelle Kazanjian
His  family, relatives and friends.
Praying for his departed soul
—  follow on Twitter | like on Facebook | forward to a friend