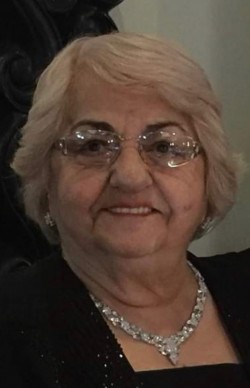 …
M

rs. Maribel Hidirsah Uygan (1937-2020)


 Funeral Announcement.

Mrs. Maribel Hidirsah Uygan
( Diyarbakir 1937 –  Los Angeles 2020)–
Survived By, 
Her Husband: Mr. Afrem Uygan
Her Daughter: M/M Ronald  & Ferah Uygan-Dauzat
        their children Jordan & Christine Dauzat
Her Son: M/M Abit  &  Natalie Mouchamel Uygan
their children Afrem & Marie Uygan
Her Beloved Sister Janet Sucu
Her Sister Mrs. Beyhan Vartanyan
Her Nieces and Nephews:
M/M.  Anto & Sevda

Karaguezian

and Family
M/M. Fuat and Ferda Sucu and Family
(Fuat: Former member of OIA Board of Directors)
Mrs. Sevan Vartanian Sert and her children
Miss. Selin Vartanian
Her extended families Uygan, Hidirsah, Sucu, Vartanyan, Dauzat, Mouchamel, Karaguezian, Sert, Arslan and Sabuncu families
………
Funeral Services will be held 
On Friday, August 28, 2020 at 10:00 AM
Memorial Park Management requires
Wear a mask  and keep social distancing  
.
….
It is the wish of the family that in Lieu of Flowers,
Donations in her memory be made to:
Organization of Istanbul Armenians
(pay online) to OIA.
…
Contact:  Mr. Abit Uygan (213) 804 9139
…….
On behalf of the Organization of Istanbul Armenians Board of Trustees,
Executive,  and all the committees, we convey our heartfelt condolences to
Mr. Afrem Uygan
M/M Ronald & Ferah Uygan-Dauzat and Family
M/M  Abit & Natalie Uygan and Family
M/M Fuat and Ferda Sucu and Family
M/M Ohannes and Rita Sabuncu and  Family
Her  family, relatives and friends.
Praying for her departed soul
—  follow on Twitter | like on Facebook | forward to a friend