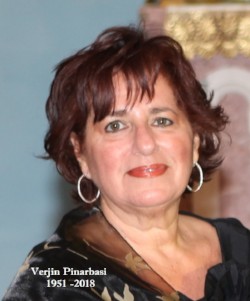 ….
Mrs. Verjin Pinarbasi  (1951-2018)


 Funeral Announcement.
Mrs. Verjin Pinarbasi 
(1951 Istanbul – 2018 Irvine Ca.)
–
Survived By,

        Her Husband, Mr. Hagop Pinarbasi
        Her Son M/M Roy & Selin Pinar
               Grandchildren: Mason, Evan, Katelin Pinar
        Her Brother M/M Hovsep & Irma Bergciyan
        Her Niece M/M Lerna & Cano Babek & Daughter Lori
        Extended Families: Kuyumcuyan, Polat, Hacaduryan,
        Markarian, Kahvecioglu and Shakarian
Dear friends and extended families
………
Funeral Services will be held 
On Tuesday, October 23, 2018 at 10:30
at St. Mary Armenian Church
 148 E. 22nd Street Costa Mesa, Ca. 92627
  Followed by Pacific View Cemetery
3500 Pacific View Dr.  Corona Del Mar, Ca. 92625
.
It is the wish of the family that in Lieu of Flowers,
Donations in her memory be made to:
Organization of Istanbul Armenians
Contact: Roy Pinar (714) 363 3492
…….
On behalf of the Organization of Istanbul Armenians Board of Trustees,
Executive,  and all the committees, we convey our heartfelt condolences to
 Mr. Hagop Pinarbasi
M/M Roy & Selin Pinar
M/M Hovsep & Irma Bergciyan
Ms. Ilda Shakarian and Family
Her  family, relatives and friends.
Praying for her departed soul
———————
——