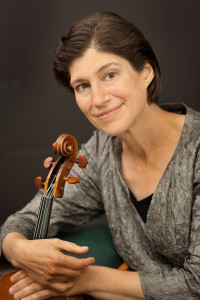 LOS ANGELES, Calif.—Armenian American violist Kim Kashkashian won the award for the recording "Kurtág & Ligeti: Music for Viola" at the 55th Annual Grammy Awards this evening.
Kashkashian has established herself as one of the most accomplished artists of her generation. Inspiring world-wide critical acclaim, she has been hailed by The San Francisco Chronicle as "an artist who combines a probing, restless musical intellect with enormous beauty of tone." The New York Times has joined in these accolades, praising her "rich, mellow timbre and impressive artistry."
In recent seasons, Kim Kashkashian has appeared as soloist with the major orchestras of New York, Berlin, London, and Munich. and Tokyo. Her recital appearances take her to Boston, Washington DC, Philadelphia, San Francisco, Cleveland and Los Angeles.
Kashkashian has made guest appearances with the Tokyo, Guarneri, and Galimir Quartets and toured with a unique quartet which included violinists Gidon Kremer and Daniel Phillips and cellist Yo-Yo Ma.
Her June 2000 recording of concertos by Bartók, Eötvös and Kurtág won the 2001 Cannes Classical Award for a premiere recording by soloist with orchestra. In January 2002, ECM New Series released Voci, her recording of two large works by Luciano Berio. The album comprises the title work for viola and orchestra as well as Naturale, a related work for viola and percussion (Robyn Schulkowsky), and archival field recordings of Sicilian folk music. Hayren and Monodia, released in 2003 and 2004, respectively, focus on Kashkashian's work with the Armenian composer Tigran Mansurian.
Kashkashian's extensive teaching activities have included professorships at the University of Indiana in Bloomington and at Conservatories in Freiburg and Berlin, Germany. In September 2000, she began teaching viola and chamber music at the New England Conservatory in Boston.
Born in Detroit, Michigan, of Armenian descent, Kashkashian graduated from the Peabody Conservatory of Music where she studied with Walter Trampler and Karen Tuttle.
(Source for bio:
http://necmusic.edu/faculty/kim-kashkashian?lid=2&sid=3