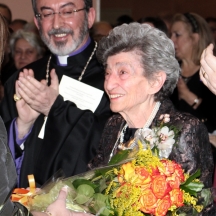 27 February 2013
On Saturday, February 23, the Church of the Holy Martyrs of Bayside, NY, hosted a literary evening honoring longtime educator and author Vosgi Dagdelen. Archbishop Khajag Barsamian, Primate of the Diocese of the Armenian Church of America (Eastern), presided over the gathering, which drew 240 people.The program featured readings from Mrs. Dagdelen's recently published book, Yerazankee Baher Gyankees Dareeneren (My Life Memories)-a collection of essays about her life as a teacher in Istanbul and New York."Events like these nourish our Armenian spirit," said Archbishop Barsamian. "Vosgi Dagdelen, with her love of the Armenian heritage and language, is an inspiration to all of us."Arto Khrimian, president of the Esayan-Getronagan Alumni, served as the master of ceremonies. Community member Zivart Balikjian read excerpts from the book and spoke about Mrs. Dagdelen's contributions to Armenian learning.
"Her essays are full of good counsel and philosophical thought," Ms. Balikjian said. "She has a positive outlook on life and she strives to be optimistic in the face of challenges."
Born in Sepastia not long after the Armenian Genocide, Mrs. Dagdelen moved with her family to Istanbul as a child. She attended both the Esayan and Getronagan Armenian schools, and later studied French at a local university. While still pursuing her studies at the university, she began her teaching career at the Esayan School, where she went on to serve as a teacher and administrator for 35 years.
In 1955, she married Dr. Vahrij Dagdelen and the couple had a daughter, Aghavni Rita. They moved to New York in 1979, where Mrs. Dagdelen taught at the Holy Martyrs Armenian Day School, and gave regular talks at various Diocesan parishes.
Her essays and articles have appeared in Marmara and Arev Daily, among other publications. Yerazankee Baher Gyankees Dareeneren is her first book. When it was published in Istanbul in 2012, a celebratory event was organized by the Esayan and Getronagan schools there. A video of that gathering was shown at the February 23 evening in Bayside.
Other program highlights included a piano performance by Artur Ipek and a surprise birthday cake for Mrs. Dagdelen's 90th birthday. Fr. Abraham Malkhasyan, parish pastor, congratulated Mrs. Dagdelen.
Archbishop Barsamian presented the honoree with an Armenian alphabet carpet crafted in Armenia. Remarks were also made by Mrs. Dagdelen's daughter, Rita Aghavni. Mrs. Dagdelen expressed her gratitude to her family and to the community for their support of her work, and presented guests with signed copies of her book.
The evening was organized and sponsored by the Esayan-Getronagan Alumni of New York. Collaborating organizations include the Constantinople Armenian Relief Society, the New York chapters of the Hamazkayin Armenian Educational and Cultural Society and the Tekeyan Cultural Association, Hye-Doon, Armenian-American Support and Educational Center, and Tibrevank Alumni.
– See more at:
http://www.armenianchurch-ed.net/news-and-media/news/holy-martyrs-church-hosts-literary-evening/#sthash.V9XwzNYs.dpuf