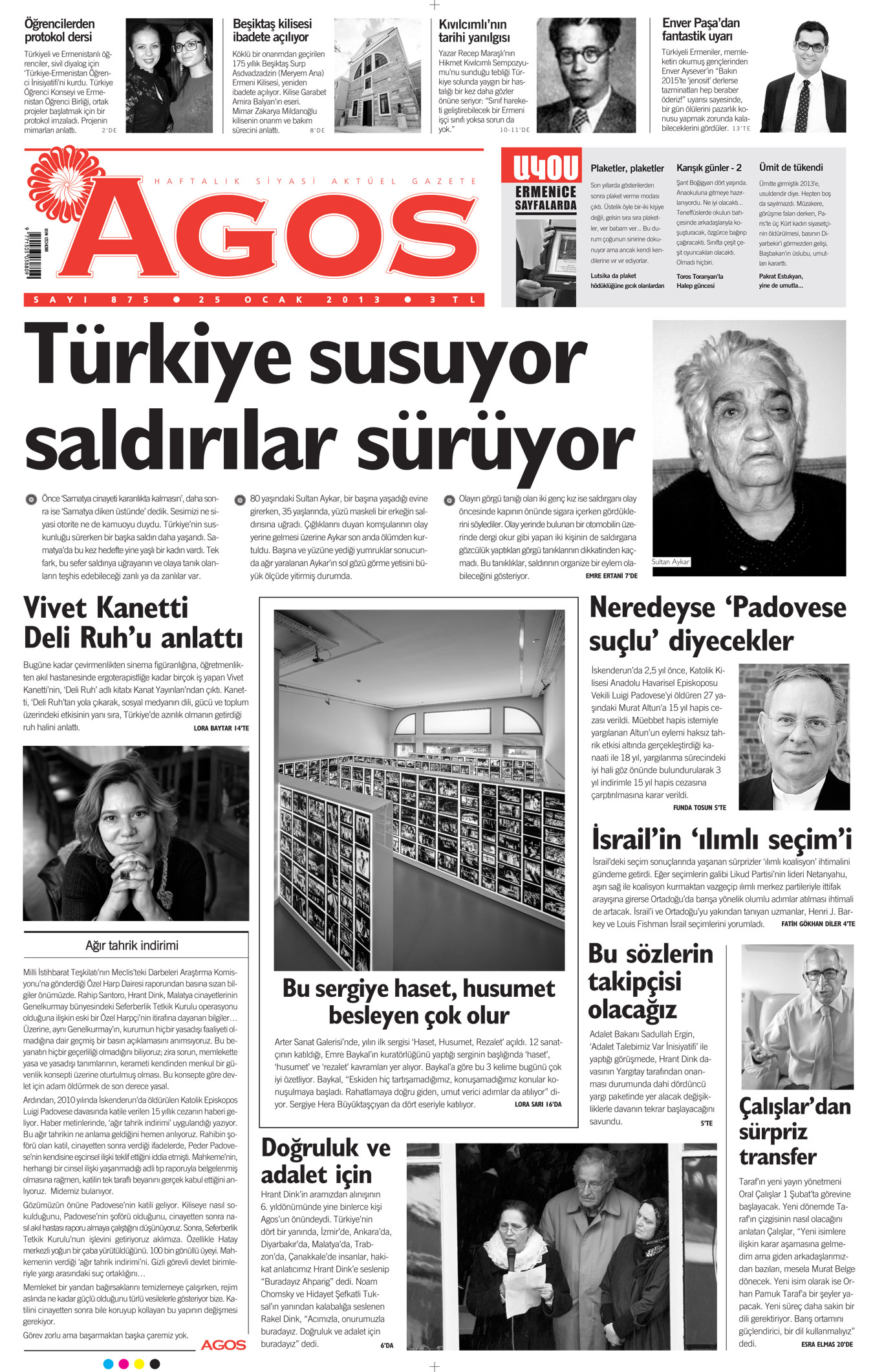 ISTANBUL, Turkey (A.W.)—The Armenian neighborhood of Samatya in Istanbul is now under heavy police patrol after a series of attacks against elderly Armenian women in recent weeks, the Armenian Weekly has learned from activists and sources in Samatya.
Agos headline: Turkey Silent as Attacks Continue
The Istanbul Aksaray Police department has announced that there are 20 police patrols in the neighborhood, and around 100 plainclothes policemen have also been dispatched to Samatya.
Police has also announced that one person might be behind all recent attacks, while activists the Weekly has communicated with question that scenario.
The Samatya area is home to many Armenians. The community is weary of these attacks, and calls for caution have been made.
Agos: Turkey Silent as Attacks Continue
The front page headline in this week's issue of Agos, the Turkish Armenian newspaper founded by Hrant Dink, reads "Turkey Silent, Attacks Continue" (see photo).
On Sunday, Jan. 27, The Istanbul branch of the Human Rights Association, Nor Zartonk (young Armenians' socialist initiative) and AKADER (Antolian Peoples' Culture association) will hold a rally in Samatya in solidarity with the Armenian community there.
In recent days, a few media outlets and politicians have broken the silence on the issue, while overall, Turkey remains silent.
One murder, at least three other attacks in recent weeks
In recent weeks, there have been several attacks against Armenians in Istanbul, mostly in Samatya. In early December an Armenian woman was attacked and robbed; while months earlier an Armenian woman was attacked by a taxi driver and called an infidel.
On Jan. 6, three assailants tried to kidnap an elderly Armenian woman, according to Turkish sources. The attempt failed.
According to human rights activists, the common thread that runs through all of these crimes is not just their being motivated by hate or being committed in an environment that breeds intolerance against Armenians, but also the efforts of the authorities to play them down.
The Armenian Weekly will continue following up on this issue.