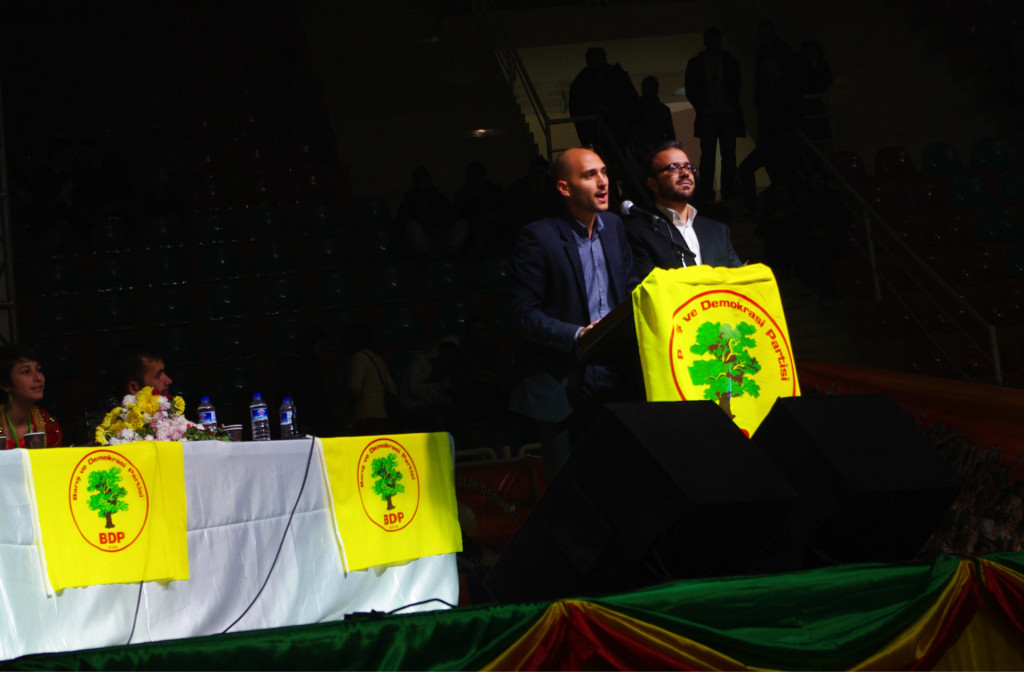 Reflections from Diyarbakir: Delivering the Message of ARF Youth
(Special to the Armenian Weekly)
'Yes, I am Armenian. Fourth-generation Dikranagerdtsi…'
Things seemed to come full-circle when I heard these words come out of his mouth, albeit translated from the language I was brought up to hate.
Navaf came rushing to the stage as we were coming off, ready to greet us with this piece of amazing news he had wanted to share for a long time now. My friend and I had just finished addressing the first youth conference of the Peace and Democracy of Turkey (BDP) in Diyarbakir (Dikranagerd). The mostly Kurdish crowd of supporters, upwards of 30,000, had watched in astonishment as two representatives of the ARF Youth and Student Organizations addressed the crowd first in Armenian and later in Turkish. (Read the report on the conference 
here
.)
Although I had briefly studied the Turkish language during my university days, something within me, instinct perhaps, had never allowed me to become fluent; and so, I had the honor of addressing the crowd in Armenian. In a brief meeting with the conference organizers a day earlier, we had described why we'd be sharing our message in our native tongue. Our Kurdish counterparts said that the city of "Amed" hadn't heard Armenian being spoken from a stage in almost a century, and agreed that it was time.
One would assume that a stadium full of Kurds who don't understand Armenian would be bored, uninterested, and ultimately indifferent—especially since we were speaking as representatives of a people who once called these lands "home." Yet, we witnessed the exact opposite that day. As I read out loud what we had written in the Western Armenian dialect of my forefathers, the audience watched and listened attentively. It almost seemed like they understood everything I said. As if the words that had so eloquently been spoken in the streets of that city nearly a hundred years ago still had meaning for these people who were gathered there for a common, unifying purpose.
Growing up in Toronto, I was lucky to have attended Armenian school from kindergarten through high school. After graduating, I made an extra effort to immerse myself in everything Armenian, in an attempt to not become a victim of what some call the jermag chart ("white genocide"). I read as much as possible about our history, and I did my best to keep up with the latest in Armenian news in Armenia and the diaspora. But when I learned that I'd be traveling to historic Armenia to meet with Kurdish youth, I realized I knew very little about Armenian-Kurdish relations. All I could recall from my 15 years of Armenian education was that a Kurdish representative had been elected to the Armenian Parliament during the first republic.