Mr. Edvin E. Minassian, Esq.
( Istanbul 1963- Los Angeles 2021)
Chairman  ,  OIA Board of Trustees
Member,  Pan Armenian  Council  Western  USA
Member, Board of Directors  ACNIS
Frequent  Columnist,  Agos  Newspaper  (Istanbul)
Former  Chairman,  Armenian  Bar  Association
Former  Member, Board  of  Trustees  of
Ararat  Home  of  Los  Angeles
Recepient,  St. Nerses Shnorhali Medal
from H.H. Karekin II Catholicos And  Supreme  Patriarch
of  All  Armenians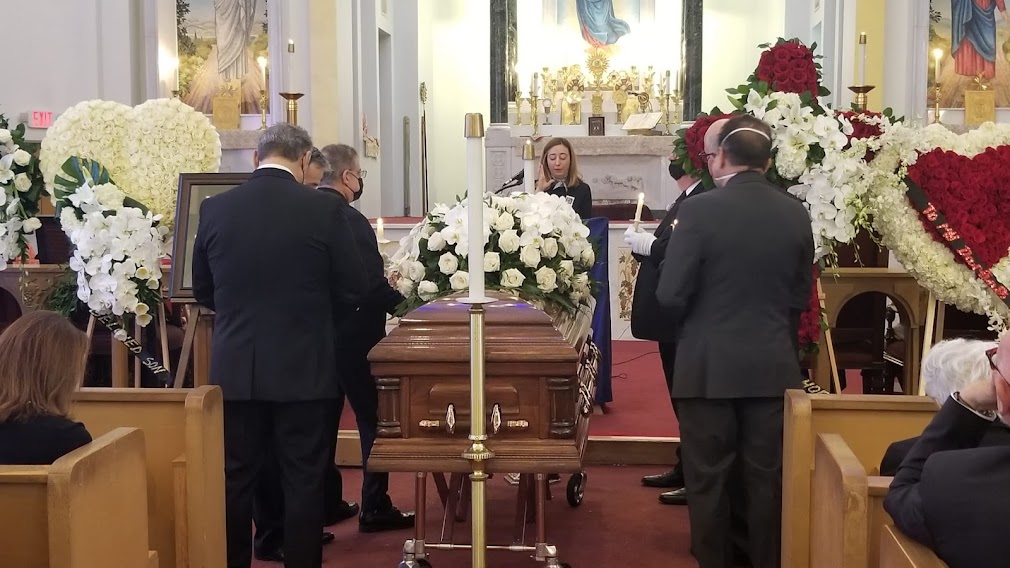 Ms. Hasmig Kehribarian
Garo Ghazarian, Esq.
EULOGY OF EDVIN MINASSIAN 
Էտվին Մինասեան, թաղման խօսք
Garo Ghazarian—Կարօ Ղազարեան
September 30, 2021
———————————————————
ՈՒԽտը մէկ էր՝ նուիրական հայ ազգին:
One of the most prominent yet unheralded Armenians.
An accomplished lawyer. A strong community leader who led multiple organizations. A widely respected figure in the national and cultural life of Armenians, who cared deeply for how the less fortunate lived, and how simple, honest people were brutalized by their circumstances. His way was about the creation of ambiance and mood for others, keeping much of his sensitive emotions private. He was immersed with his people's fears and inner conflicts. He retained a love of scholarship and learning, and an abhorrence for hypocrisy. And that is why, he was admired and loved by Armenians and non-Armenians alike; that is why he resonated with everyone.
As a champion of Armenian rights and an advocate for unity and freedom, he faced much adversity but remained undeterred. He was one of the outstanding Armenian leaders of his era, an influential mind, a columnist, whose voice is well documented in journalism. He was a giant, yet often invisible.
You had to really know him to understand him, to comprehend his silent grief, and the aspirations for his people he carried in his heart. If a book were to be authored posthumously about his philosophy — of life and living — it would be entitled, a "DIARY OF A TRAVELER."
No, I am not talking about Krikor Zohrab. I am talking about he, who channeled, he, who idolized Zohrab. I'm talking about Minassian, my friend, Edvin Minassian! — I am talking about our Edvin who, a decade ago was my chairman and I, his vice-chair, his "attack dog," as he joyfully reveled, when referring to me. 
I'm talking about my friend who summoned me to his deathbed a week prior to passing, who received me each of his last 4 days on earth, my friend, on whose chest I rested my head before his passed. — There, in a hospital room, he whispered his dying wish: to channel his beloved idol, Krikor Zohrab, and to continue all that was his life's work.
"I am dying," he said to me, as he caressed my cheek placed on his chest. We spoke for 3 hours that afternoon; 2 days later, as I recited the Lord's Prayer and kissed his forehead for the final time, my lips felt the jolt of his brilliant mind. I walked out of the hospital room leaving behind his lifeless body, with his mother and brother at his feet, and Edvin loyalists—his devoted girlfriend Hasmik, his partners, family, cousin Edie and more, nearby.
Looking back, I recall all the Januarys he had asked me, to be a part of the OIA's annual remembrance of HRANT DINK. I also recall fondly, a bright September evening two years ago. He had asked me to come to OIA, "to MC an event," he said, and I had come, as I had EVERY TIME he called my name! 
My name is Կարօ Ղազարեան — I am Edvin's brother-in/arms, his Arkhadash (as he called me) in the CAUSE — and, as of that September night — a proud "honorary-member" of his beloved BOLSAHYE meeyutyun.
Two weeks ago, on your deathbed, you spoke to me about your life, your dreams, and your vision. Looking into my eyes, you held your arms out. I embraced your ravaged body, and heard your rapid heartbeat. I held your hand, trying in vein, to suspend time… The room was quiet, the moment was peaceful like no other fleeting moment I have experienced in 60 years. 
EDVIN JAN — դուն դեր շատ պիտի ապրէյիր. այո, դուն դեր շատ պիտի ապրէյիր!! 
You said you were dying, and when I tried to disagree, you said "Garo, I am going to die, and there's nothing you can do about it." — "It is what it is," you said! And like everything else you have said to me over the years, you were right! 
So who are you? I know who you are to me, and who I was to you. You were a true revolutionary because: "In a time of universal deceit — telling the truth is a revolutionary act." But who are you to all those people who have been mourning you since the morning after your passing, of all days, on the 30th anniversary of ARMENIA' s latest struggle with independence! 
I say, YOU ARE A WISE OLD SOUL, A LOYAL FRIEND, AND A FIERCE SUPPORTER OF COMMUNITY AND OF HUMANITY who died way too soon, way too soon Edvin Jan. You were better than a "best friend" — you were an honest friend. Լաւագոյն ընկերէ մը աւելի լաւ ընկեր էյիր. անկեղծ ընկեր էյիր: [Taner (Akcam) Jan, I appreciate what you said to me earlier, I really do; but as you know, no one can take his place.] 
NO ONE can TAKE YOUR PLACE EDVIN JAN. BUT — We CAN AND WILL, KEEP YOU WITH US, to take your vision to your people — our people — to CONTINUE YOUR STRUGGLE, our struggle, and to continue your MISSION, our mission! As for me Aghparig, I will keep my promise to you  — to CHANNEL Krikor Zohrab, to continue embracing HRANT DINK; and my dear Edvin: most of all, I promise to CARRY both of their contemporary—YOU, with me!
So farewell to you, but not farewell to my fondest feelings for you.  Within my heart you still shall dwell, you shall cheer, and live! — I will strive to follow in your path, your footsteps as my guide, and pick up, pick up, if only a piece of the giant that is you, and in your memory, carry it — carry it with me, in your honor, keep your spirit alive until, I cross my own life's finish line.
Բանաստեղծներու անուններ տրուեցան այսոր ու անոնց գրութիւններէն նշումներ եղան. Էտվինի եւ իմ սիրելի ու մօտիկ ընկերոջ մը բանաստեղծութիւններէն մէջբերումով կ՛աւարտեմ իմ սրտի խօսքս:
Այո — Կը յիշեմ այդ երեկոն, 
մեր մշուշոտ, ու ցուրտ (վերջին երեկոն), երբ մենք՝ երեքով բոլորուած` մեր անմեղ ու անկեղծ 
նուիրուածութեան րոպէները կը հաշուէինք:
Ես էի, դուն էիր, և երազանքը 
մեզ միացնող: 
Կրակը, հիմա 
վաղուց հանգչած է արդէն, 
ու մենք հոն չկանք այլեւս:
Հիմա կամ ես, կաս դուն, 
ու կայ մեր ետին մնացած 
ամբողջ ուղի մը ցաւալի:
Եւ այսպէս, գուցէ ես դադրած եմ հաւատալէ ամէն ինչի, բայց կը շարունակեմ հաւատալ մեզ,
կը շարունակեմ հաւատալ քեզ:
Rest In Peace my sweet friend. 
Հանգչիր իմ քաղցր ընկեր, 
վարձքդ կատար, հանգչիր, թանկագին Էտվին: