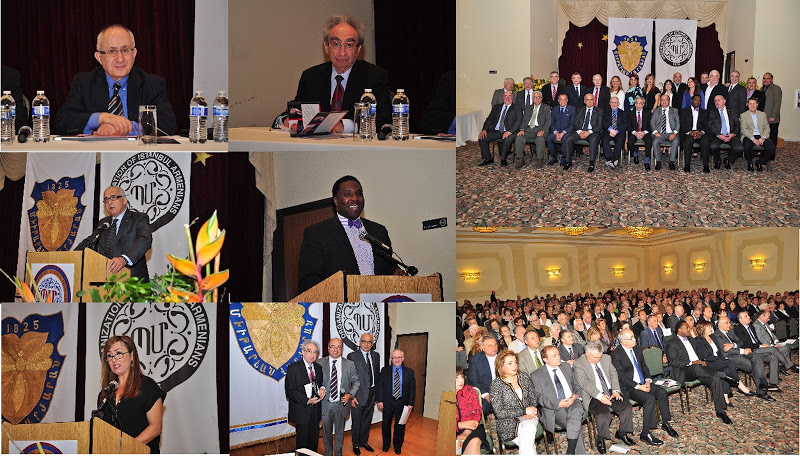 On Friday, March 22 at 8:00pm, the Organization of Istanbul Armenians welcomed two distinguished, very well known scholars: Professor TanerAkcam, Director of Clark University Armenian Genocide studies, and Professor Richard HrairDekmejian, Director of the institute of Armenian Studies, University of Southern California. On behalf of the OIA, Mrs. TalinSarafoglu welcomed the guests. In her welcoming remark she said, "our focus tonight is Armenian Genocide Research and Study Programs in the United States. How far have we progressed and in what direction?"
After Mrs.Sarafoglu's warm greetings, Executive Committee President Mr. KurkenBerksanlar came to the stage. He said, "even though there are non-Armenian guests in the room, I would like to request their understanding to make part of my opening remarks in Armenian, since it is inconceivable for me to talk about the Armenian genocide without expressing few words in my mother tongue. Afterall, there is an important symbolism here, when I speak in my native language. Speaking Armenian in a packed hall,  discussing anything related to the Armenian Genocide is an indication that, although they tried they did not succeed in their ultimate goal of eliminating our race and the culture. We are still here as Armenians, and we will continue to strive". Mr. Berksanlar also extended his gratitude to the generous donor who has supported OIA's calling with a donation of 125,000 dollars by establishing a scholarship fund at Clark University for the Armenian Genocide Studies Program. He also added that, our major donor sets an example by his humility who prefers to stay anonymous. As Mr. Berksanlar left us with his profound words, and brief introduction of both speakers, Professor Akcam took the stage. His speech delved into the deep history and the sought after future of the struggle for recognition of the genocide. After giving a brief summary about the history, Prof. Akcam pointed out that the Turkish Government is becoming more sophisticated in their attempt to sway the American public opinion. He explained that during the last three years, they have made a change in their tactics, as opposed to blatantly denying the genocide; they now challenge the Armenian point of view in a more civilized manner. The argument is not so much weighed down by the notion that, "no such thing happened: we did not kill you, you killed us, and we had to protect ourselves," anymore but now they  have a different and a more sophisticated  approach. They don't deny the genocide anymore , but instead argue that factuality of the genocide is  one of the opinions among many others, mainly the fact that "what happened to Armenians in 1915 is not necessarily can be considered a genocide" and they just want to have their opinions heard and considered  in the name of a different, the other sides  point of view as well.They have been spending more funds than previously, just to create doubts about the events of 1915. They sue academic institutions and intellectuals for organizing seminars to inform the public about the genocide while denying the other side to be heard.They are coming out with more determination , and are willing to invest  more funds, time and effort to achieve their goal. "Are we prepared to face this challenge" Akcam asked? According to Prof. Akcam, the answer is a resounding "NO." Currently, we do not have many scholars studying the genocide. We will not have a sufficient number of intellectuals who will conduct more research and become more knowledgeable about the subject in the next generation, because there has not been enough support to raise young scholars. There are  Turkish students, he said, who apply to study the Armenian genocide to become the experts of the subject. He had to turn them down, because of the lack of available funding. Fortunately, there are more people nowadays who risk their lives to change racist policies of their government. These groups are dedicated to democratic ideals and human rights for all the non-Turkish citizens in Turkey and realize that recognizing the Armenian genocide would be a giant step forward in their struggle. Prof. Akcam ended his speech with a plea: "please don't leave me alone in this struggle!". The discussant of the evening was, Prof. Richard Dekmejian a well known Armenian American scholar. He spoke about ways in which we can develop a sophisticated argument regarding the genocide. He stressed the need to incorporate the events of 1915 with previous history ,economy, cognitive and social psychology, sociology and various other areas. He believes that we have to teach the Armenian genocide concurrently with other genocides by making comparisons and emphasizing the similarities. We have to study the psychological profiles of the union and progress leaders and more research has to be done about the economical reasons.
After Prof. Dekmejian's speech, there was a session of questions and answers following which award presentation took place. This was soon followed by the friendly atmosphere of a gathering, during which wine and an assorted platters were enjoyed amidst discussions of the preceding forum.
I left the OIA building with questions that will bother me for times to come: will our next generation have the knowledge, sophistication and determination to see this struggle through? Will we be able to give them the support they need? Having dedicated the majority of my life to spreading knowledge and awareness concerning the Armenian cause, I am hoping to find students with the level of devotion presented by the speakers of the night. For the sake of our ancestors, I certainly hope so…
RozalinMadoyan