OIA OFFICE NEW PHONE NUMBER
(747) 2449298
"Event Sponsored By The George Ignatius Foundation "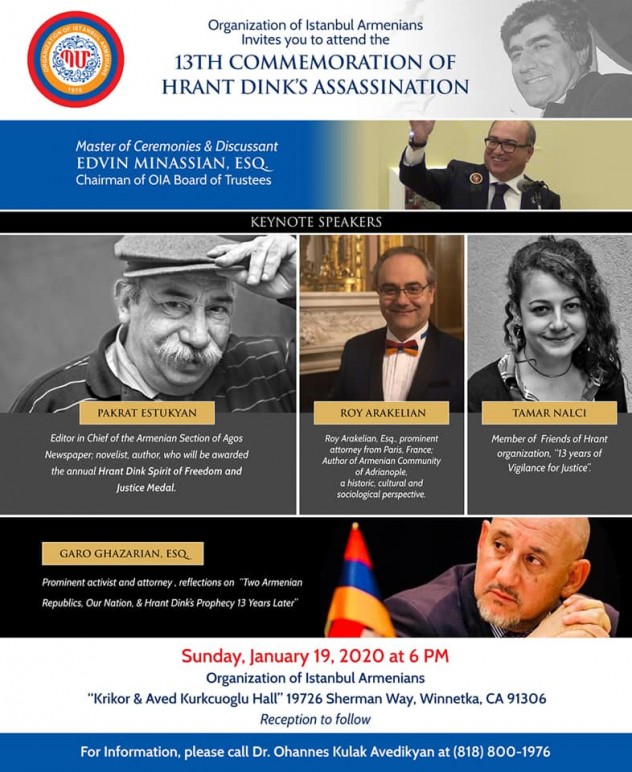 Please join us once again on this very solemn occasion . We do have a very rich, diverse and enlightening line up of speakers and topics .
Leading the evening's program will be the legendary Pakrat Estukyan , who will receive the 2020 OIA Hrant Dink Medal for his life time of work and contributions . He will address and inform on the state of the Armenian community in Turkey and the recent patriarchal elections .
We are also honored to present Roy Arakelian who will join 

us from Paris and lecture about his ancestral city , Adrianople and its rich Armenian history . Tamar Nalci , will be speaking about the vigilant quest for justice since Hrant Dink's assassination .
Of course , as always the one and only Garo Ghazarian , the newest honorary member of OIA , will close with his reflections on a critical topic , the state of our two republics , the Nation and Hrant's prophecy !!
Time permitting we will have a panel discussion with all participants and question & answer on the critical topics of the day .
I sincerely hope that you will make sure to add this to your calendars and join us on Sunday , January 19th at 6 pm .
Կը խնդրենք անգամ մը եւս միանալ մեզ այս շատ հանդիսաւոր առիթին: Մենք ունինք շատ հարուստ, բազմազան և լուսաբանող շարք մը խօսնակներ և թեմաներ:
Երեկոյի ծրագիրը կը գլխաւորէ առասպելական Բագրաթ Էսթուքեանը, որ պիտի ստանայ 2020 թ. Պոլսահայ Միութեան Հրանդ Տինքի Մետալը` իր կեանքի ընթացքին կատարած աշխատանքին և ներդրումներուն համար: Ան պիտի անդրադառնայ և  տեղեկացնէ Թուրքիոյ Հայ համայնքի վիճակի և պատրիարքական վերջին ընտրութիւններուն մասին:
Մենք պատին ունինք նաև ներկայացնելու Իրաւաբան Ռոյ Առաքելեանը, որ մեզ պիտի միանայ Փարիզէն և դասախօսէ իր նախնիներու քաղաքի, Ատրիանուպոլսոյ և անոր հարուստ հայկական պատմութեան մասին: Թամար Նալճըն պիտի խօսի Հրանդ Տինքի նահատակութենէն ի վեր արդարութեան զգօն որոնման մասին:
Ի հարկէ, ինչպէս միշտ, միայն և միակ Կարօ Ղազարեանը, Պոլսահայ Միութեան նորագոյն Պատուոյ Անդամը, պիտի փակէ քննադատական թեմայի իր արտացոլումներով, «Մեր երկու Հանրապետութիւններու վիճակի, ազգի և Հրանդի մարգարէութիւններու մասին !!
Ժամանակը թոյլ տալով, մենք պիտի ունենանք բանէլային քննարկում՝ բոլոր մասնակիցներուն  հետ և օրուան կարևոր թեմաներով հարց ու պատասխան:
Ես անկեղծօրէն յոյս ունիմ, որ դուք անպայման սոյն ձեռնարկը պիտի աւելցնէք ձեր օրացոյցերուն վրայ և միանաք մեզ Կիրակի, Յունուար 19-ին, երեկոյան ժամը 6-ին:
.
We are very excited and proud to welcome Pakrat Estukyan as the Primary Keynote Speaker to Los Angeles and have the honor to present him with the 2020 Hrant Dink Medal .
Don't miss the 13th Commemoration of Hrant Dink at OIA on Sunday the 19th of January at 6pm .
Pakrat Estukian was born in 1953 in the Rumelihisar district of Istanbul, from Armenian Genocide survivors' parents, who found refuge in the historic Armenian districts of Constantinople,
Rumelihisar and Samatia.
Estukian's childhood passed on Feridiyye
Street in Taksim District. He attended first the nearby Esayan and Sakizaghachi Mkhitarian, then the Getronagan Colleges. For many years he was involved in biological astronomy, always keeping the connection with literature alive. His stories, all of which were woven from pan-Armenian materials, were published in the city's periodicals. A selection of these stories was first translated into Turkish and then translated into Armenian under the names "Armenian Hikayeler" and "Bandukht Song". He is part of the editorial staff of the Agos newspaper, working as editor-in-chief and columnist for the Armenian pages of the newspaper.
For the Art TV channel, in partnership with the editor of the Greek newspaper "Aboevmatin", Mikhail Vassiliatis, since November 2017, he has been preparing a weekly newsletter with content on weekly city and town events. He performs weekly for the "Ayp FM" radio station in Paris and Radio Agos with "Aghik Radio" station in Istanbul. He also works as a columnist for the daily "Özgürlükçü Demokrasi".
On Thursday January 23  , 2020 at 7:30PM
Karniyarik Night
Dinner Sponsored By
Mr. & Mrs. Herman and Talin Yayla
Detail will  follow
January 23 – 24 , 2020