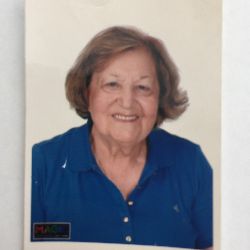 …
Mrs. Vartanus Terziyan (1928-2022)


 Funeral Announcement.
Mrs. Vartanus Terziyan (1928-2022)
Survived By, 
Her Daughter: Mr. & Mrs. Kirkor & Sibel Islikaplan
And Their children : Aren And Andy Islikaplan
(Krikor: Former Member of OIA Ent. Com.)
(Sibel: Former Member of OIA Ladies Auxiliary )
Her Son: Mr. Arthur Terziyan 
And His Children : Shantal and Rober Terziyan
Relatives:
Hayr Sarkis Vartabet    Ermen    (Istanbul)
Mrs. Mari Luis Saatciyan (Istanbul
Dear friends and extended families
………
Funeral Services will be held 
On Thursday, June 30, 2022 at 10:00 AM
at St. Peter Armenian Apostolic Church
17231 Sherman Way, Van Nuys, CA 91406
——
Followed by Internment Services 
at Oakwood Memorial Park
22601 Lassen St. Chatsworth, CA. 91311
Please wear masks and keep social distancing.
( State and LA County Health Regulations
to be strictly enforced )
.
It is the wish of the family that in Lieu of Flowers,
Donations in Her memory be made to:
Organization of Istanbul Armenians
(pay online) to OIA.
Or


Friends of Armenia
Contact:  Mrs. Sibel Islikaplan  (818) 825-0980
…….
On behalf of the Organization of Istanbul Armenians Board of Trustees,
Executive,  and all the committees, we convey our heartfelt condolences to:
 Mr. & Mrs. Kirkor & Sibel Islikaplan
Mr. Artur Terziyan
Her  family, relatives and friends.
Praying for her departed soul.