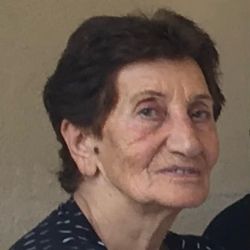 …
 

 Mrs. Satinik Ucar  (1931-2022)


 Funeral Announcement.
 Mrs. Satinik Ucar
(was born on 05/01/1931 in Gemerek.
Past away on 06/08/2022 in Los Angeles.)
Survived By, 
Her daughter Makruhi and son in law Artin Ferahyan in Istanbul.
His son Hampar Ucar Los Angeles.
Grand children Mr. and Mrs. Ararat and Brien Ferahyan
Mr. Aras Ferahyan Istanbul
Sarkiz Goktas and Children  Serop and Garo Goktas 
Rober and Araksi  Varjabedyan
Mr. Yervand Göktaş in Germany.
Sister Yester Pambuk and her family in İstanbul.
Nevard and children in İstanbul.
Extended Families
Demir, Delice, Sarı and Ergün
Families
Dear friends and extended families
Funeral Services will be held 
On Thursday, July 7. 2022  at 12:30 PM
St. Kevork Armenian Apostolic Church 
1434 W. Kenneth Road Glendale, Ca 91201
(818)243-7802
——
Followed by Internment Services 
6300 Forest lawn Dr.
Los Angeles ,CA 90068
———
Please wear masks and keep social distancing.
( State and LA County Health Regulations
to be strictly enforced )
.
It is the wish of the family that in Lieu of Flowers,
Donations in her memory be made to:
Organization of Istanbul Armenians
Contact:  Dr. Mark Kosker
…….
On behalf of the Organization of Istanbul Armenians Board of Trustees,
Executive,  and all the committees, we convey our heartfelt condolences to:
 M/M  Artin & Makruhi Ferahyan
Mr. Hampar Ucar
Her  family, relatives and friends.
Praying for Her departed soul.