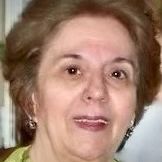 …
 Mrs.  Izkonuhi (Suzan) Germirlian (1933-2022)
40th  DAY REQUIEM SERVICE

Mrs.  Izkonuhi (Suzan) Germirlian
( Istanbul Feb 24,  1933 – Los Angeles Nov 26, 2022)
40th Day Requiem  Services will be held
On Sunday , Jan 8, 2023  at 2:00 PM
at Oakwood Memorial Park
22601 Lassen Street, Chatsworth, Ca. 91311 
Please wear masks and keep social distancing.
( State and LA County Health Regulations
to be strictly enforced )
Survived By, 
Her Son: Mr.&Mrs.  Garo & Hilda Germirlian
Her Grandkids: Anette & Narek Germirlian
In Laws: Mrs. Azat Chakarian & Dr. Varujan Chakarian
Nalbanthazar, Isnar, Torikian, Garavaryan,Kosem,
Baltayan, Ertuyun, Bostanian, Chibarian,
Aslanian Families.
Dear friends and extended families
Contact:
Mr. Garo (818)  209 3040 & Mrs. Hilda (818) 679 9955
..