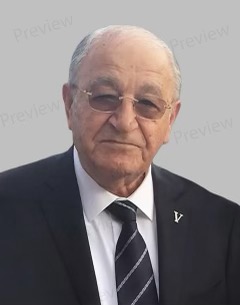 …
Mr. Vahe Urun ( 1936-2023)
40th  DAY REQUIEM SERVICE

Mr. Vahe Urun

(March 18, 1936 Tokat , Turkey

March 25, 2023 Los Angeles, CA.)
—————–
Dear friends and family,
thank you for honoring Mr. Vahe Urun at his funeral and sincerest thanks for everyone's generosity in love, support and donations.
40th Day Requiem  Services will be held
On Sunday , May 7, 2023 at 1:00 PM
Forest Lawn Hollywood Hills
(Right By The Red Church)
6300 Forest lawn Dr.
Los Angeles ,CA 90068
SURVIVED BY:
His Wife:  Mrs. Armav Urun
His Son:  Mr. Arman Urun
His Daughter:  Ms. Vilma Urun 
And his Granddaughters:  Miss. Chloe and Miss. Denise Barakat
BROTHERS:
Mr. and Mrs. Maksut and Nivart Urun
And their children
Mr. Murat Urun
Ms. Diana Urun and her daughter Miss. Tayra Pekkucukyan
SISTER-N-LAW:
Mrs. Sinorik Urun and her son 
Mr. and Mrs. Hacik and Alin Urun and their children
Mr. Christopher Urun and Miss. Grace Urun
BROTHER:
Mr. and Mrs. Ara and Angelic Run
Also survived by his extended family and dear friends.
         Contact:  Ms. Vilma Urun (818) 371 8406
..