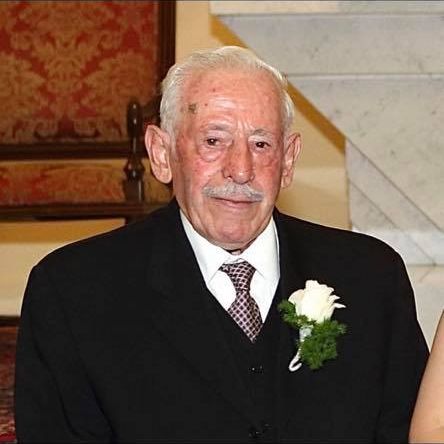 ………
Mr. Kirkor Celik (1927-2021)
1st Year REQUIEM SERVICE

Mr. Kirkor Celik
(born in Zara on November 15, 1927.
Passed away in Los Angeles on August 24, 2021).
Beloved Husband,
Father, Grandfather and Great Grandfather.
 1st Year Requiem  Services will be held
On Sunday , Aug. 28, 2022 at 1:00 PM
Forest Lawn Hollywood Hills
6300 Forest Lawn Drive
Los Angeles, CA 90068
Ascending Dawn Section 
Enter on Memorial Dr
Right on first street (Evergreen Dr.)
It's on left side, next to wall
Lot 7443
Please wear masks and keep social distancing.
( State and LA County Health Regulations
to be strictly enforced )
He is survived by
His Loving Wife:
Mrs Filor Celik
His Children:
Mr & Mrs Parunak & Silva Celikian
(Parunak:Former Member of OIA Board of Directors)
Mrs Ilda Asik
Mr & Mrs Sukyas & Anayis Chakarian
Mr & Mrs Levon & Belinda Celikian
(Levon: Former Member of OIA Ent. Comm.)
His Grandchildren:
Mr & Mrs Shant and Melissa Celikian and Family
Dr & Mrs Michael and Karin Terzian and Family
Mr & Mrs Sayyad and Ilona Chakarian and Family
Mr & Mrs Baret and Sabrina Chakarian and Family
Mr & Mrs Jack and Maral Karapetian and Family
Mr Anthony Celikian
Miss Chloe Celikian
Miss Lerna Otoglu
His Siblings:
Mr & Mrs Dikran and Hermine Celik and Family (Istanbul)
Mr & Mrs Avedis and Verkin Olgun and Family (Istanbul)
Mr & Mrs Nisan and Nivart Celik and Family
Also:
Celik, Celikian, Gagosian, Asik, Piric, Cakaroglu, Papazian, Kazanci, Olgun, Madoyan, Ceyhan, Durmaz, Polat, Solmaz, Kalay, Danaciyan, Terzian, Tasci, Sinanyan and Karapetian Families.
Contact:  Mr. Parunak Celik  (213)  216 1605
..