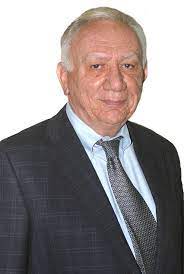 …
Mr. HRATCH R. EGINLI (1947- 2023)


 Funeral Announcement
Mr. HRATCH R. EGINLI
Born August 17, 1947 in Istanbul, Turkey
Passed Away March 5, 2023 in Los Angeles, California
Survived By:
His wife Hilda Eginli
His daughter Vanessa Nazerian
His son-in-law Harout Nazerian
His daughter Dr. Ariana Eginli
And her fiancé Dr. Kevork Hindoyan
His grandchild Matthew Nazerian
His brother Aram Eginli Aginian and his wife Sibil
and children Monique and Alec
(Mr. Aram Aginian was, former member
of OIA Board of Directors)
His mother-in-law Silva Halachian
His brother-in-law Hagop Kalfa
His niece Arlene Alpian and her husband Sevan Alpian
His nephew Ari Kalfa and his wife Melissa Kalfa
And the extended families Kechian, Kurkcuoglu, Zerunyan, Nalbantkazaroglu, Nazerian and Hindoyan 
………
Funeral Services will take place on 
March 17, 2023, Friday 9:30 AM
St. Leon Armenian Cathedral
3325 N. Glenoaks Blvd., Burbank CA 91504
 Burial service will take place at Forest Lawn Hollywood
6300 Forest lawn Dr.
Los Angeles ,CA 90068
.
It is the wish of the family that in Lieu of Flowers,
Donations in his memory be made to:
 Children of Armenia Fund "COAF" (coaf.org)
or
. Jude Children's Research Hospital (stjude.org)
 Or
OUA Ojeni Eginli FInancial Aid Fund.
Or
Organization of Istanbul Armenians
Contact: Mr, Aram Aginian (213) 627 8050
…….
On behalf of the Organization of Istanbul Armenians Board of Trustees,
Executive,  and all the committees, we convey our heartfelt condolences to: 
Ms. Hilda Eginli
Mr. & Mrs. Aram & Sibil Eginli Aginian
Ms.  Silva Halachian
His  family, relatives and friends.
Praying for his departed soul.
The Organization of Istanbul Armenians of Los Angeles, a 501(c) charitable organization, was established in 1976 to preserve the Armenian heritage, traditions, and culture through its literature, education, sports, and other benevolent methods. Support our mission with your donation today.