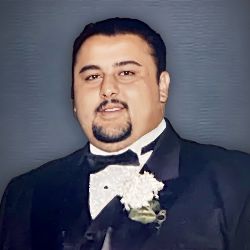 ..
U P D A T E
Mr. Arto Atlas (1973-2022)


 Prayer Service
..
Mr. Arto Atlas (1973-2022)
Prayer  Service will be held
On Wednesday , May  11, 2022 at 11:00 AM
 at  8901 Elton Ave, Canoga Park, CA 91304
(Community Club House)
Survived By, 
His Mother, Mrs. Elizabeth Atlas
(Former Member of OIA Ladies Auxiliary)
His Sister, Mrs. Lara Atlas Akcatel
(Former Member Of  Y.G.I.A.)
His Nephew, Kyle Akcatel
His Wife, Aleen Atlas
His Children, Anthony, Kayla, Natalia
Extended Families:
Olmezoglu, Kebapcioglu, Cizmecigil, Arpaci,
Berberoglu, Kazar, Bavoukian
                 
Dear friends and extended families
Contact:  Mrs. Lara Atlas Akcatel  (818) 825 0450
..
On behalf of the Organization of Istanbul Armenians Board of Trustees,
Executive,  and all the committees, we convey our heartfelt condolences to
Mrs. Elizabeth Atlas
Mrs. Lara Atlas Akcatel
Mrs. Aleen Atlas
His  family, relatives and friends.
Praying for his departed soul.
The Organization of Istanbul Armenians of Los Angeles, a 501(c) charitable organization, was established in 1976 to preserve the Armenian heritage, traditions, and culture through its literature, education, sports, and other benevolent methods. Support our mission with your donation today.
—  follow on Twitter | like on Facebook | forward to a friend