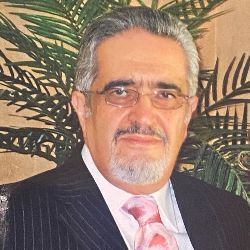 …
Mr. 

Hacik Ohanesyan (1948 – 2022)
 Funeral Announcement.
Mr. Hacik Ohanesyan
(June 14 1948 – June 19 2022 )
Survived By, 
His widow  Mrs.Najda Ohanesyan

His Sister Mrs. Sevan Ohanesyan
His Daughter
Ms. Telma Gaser . His Grandkids Anthony &
Christina and her fiancee Yeghia Kamarian
His Daughter
Mr. & Mrs. Tadhe  and Yolanda Hovsepian
Liana &Derik
Sezgin, ,Kilicsoral, Hagopyan,  Emirzeoglu
Mardin, Oymakas, Karal,  Eginliyan, Hovsepian
Kamarian  Families
                 
Dear friends and extended families
………
Funeral Services will be held 
On Friday, July 1, 2022  at 9:30 AM
at St. Peter Armenian Apostolic Church
17231 Sherman Way, Van Nuys, CA 91406
——
Followed by Internment Services 
at Oakwood Memorial Park
22601 Lassen St. Chatsworth, CA. 91311
Please wear masks and keep social distancing.
( State and LA County Health Regulations
to be strictly enforced )
.
Contact: Ms. Telma Gaser  (818) 730 3226
…….
On behalf of the Organization of Istanbul Armenians Board of Trustees,
Executive,  and all the committees, we convey our heartfelt condolences to:
Mrs.Najda Ohanesyan
Ms. Telma Gaser
Mr. & Mrs. Tadhe and Yolanda Hovsepian
Mrs. Sevan Ohanesyan
His  family, relatives and friends.
Praying for His departed soul.