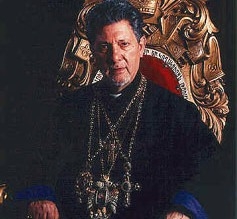 It is with deep sorrow and profound sadness that we have been informed of the passing of Archbishop Torkom Manoogian, the 96th Armenian Patriarch of Jerusalem.
The Organization of Istanbul Armenians expresses its condolences to his Holiness Karekin II, Supreme Patriarch and Catholicos of All Armenians; to the Armenian Patriarchate of Jerusalem, and to Armenians all over the world following the death of His Beatitude Patriarch Manoogian.
Born in a refugee camp for Genocide survivors near the Iraqi town of Baqoubah on February 16, 1919; he will be remembered as an exemplary man and a great spiritual leader . Patriarch Torkom Manoogian entered eternal rest on october 12, 2012.
The Patriarch's funeral is to be held October 22nd at the Armenian Cemetery on Mount Zion in Jerusalem. We pray that his soul rests in eternal peace.
Edvin Minassian Kurken Berksanlar
Chairman, Board of Trustees President, Executive Board