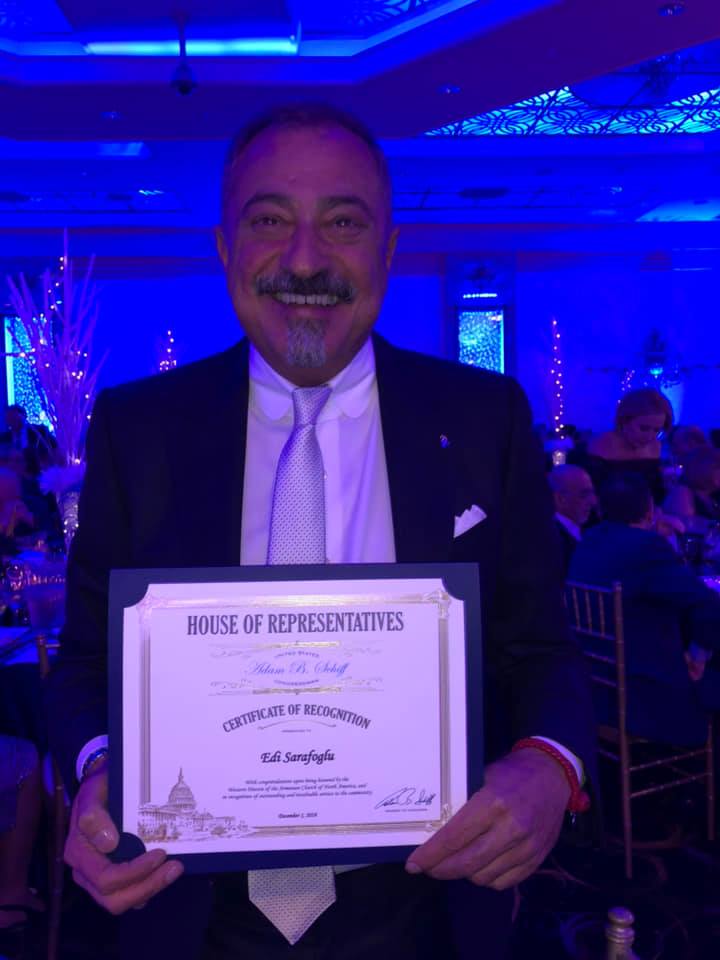 OIA Vice Chairman Edi Sarafoğlu,
Honored By Western Diocese.
Another wonderful Christmas Ball Celebration at the Western Diocese
which among the many distinguished honorees included my dear cousin and
OIA Vice Chairman Edi Sarafoğlu .
In addition , it was a great joy to see a good friend from the Armenian Bar Association,
a very good Prosecutor , Fred Mesropi from the District Attorneys Office
being honored tonight .
My friends Krekor Karaguezian and Tomik Alexanian were also
among the honorees and congratulations go to all of them .
Finally my most sincere and heartfelt congratulations
to Hovnan Srpazan , On the 15th Anniversary of his election as our Primate
at the Western Diocese and wish him a very Happy Birthday as well !!!!!
ՊՈԼՍԱՀԱՅ  ՄԻՈՒԹԵԱՆ  ՓՈԽ  ԱՏԵՆԱՊԵՏ՝  ԷՏԻ ՍԱՐԱՖՕՂԼՈՒՆ,
ԿԸ ՄԵԾԱՐՈՒԻ ԱՐԵՒՄՏԵԱՆ ԹԵՄԻՆ ԿՈՂՄԷ:
Արեւմտեան թեմի Սուրբ Ծնունդի հրաշալի տօնակատարութիւն մը եւս որ շատ մը մեծարեալներու մէջ կը գտնուէր իմ սիրելի զարմիկը եւ Պոլսահայ Միութեան փոխ-ատենապետ՝ Էտի Սարաֆօղլուն:
Բացի անկէ, մեծ ուրախութիւն էր տեսնել Հայ Իրաւաբանական Կաճառի լաւ ընկեր մը,  շատ լաւ դատախազ, Ֆրետ Մեսրոպի, շրջանային իրաւաբաններու գրասենեակէն, որ ինք եւս մեծարուեցաւ այս գիշեր:
Իմ ընկերները` Գրիգոր Գարակէօզեանը եւ Թոմիկ Ալեքսանյանը մեծարեալներու մէջ կը գտնուէին եւ իմ յարգանքի շնորհաւորանքներս  կ՛ուղղուին բոլորին:
Ի վերջոյ, իմ անկեղծ եւ սրտանց շնորհաւորանքները Յովնան Սրբազանին, 15-ամեակի կապակցութեամբ իր Արեւմտեան Թեմին Առաջնորդ ընտրուելուն առթիւ, նաեւ կը մաղթեմ իրեն ուրախ տարեդարձ: