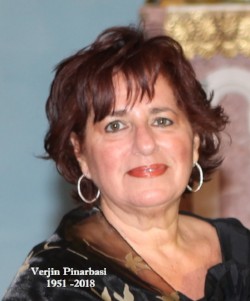 … …
  Mrs. Verjin Pinarbasi  (1951-2018)
40 Day Requiem Service.

Mrs. Verjin Pinarbasi 
(1951 Istanbul – 2018 Irvine Ca.)
40th  DAY REQUIEM SERVICE:
On Sunday November 25, 2018 at 1:30 PM


Pacific View Cemetery
3500 Pacific View Dr.  Corona Del Mar, Ca. 92625
Survived By,
Her Husband, Mr. Hagop Pinarbasi
        Her Son M/M Roy & Selin Pinar
               Grandchildren: Mason, Evan, Katelin Pinar
        Her Brother M/M Hovsep & Irma Bergciyan
        Her Niece M/M Lerna & Cano Babek & Daughter Lori
        Extended Families: Kuyumcuyan, Polat, Hacaduryan,
        Markarian, Kahvecioglu and Shakarian
Dear friends and extended families
  CONTACT : 
Roy Pinar (714) 363 3492
.