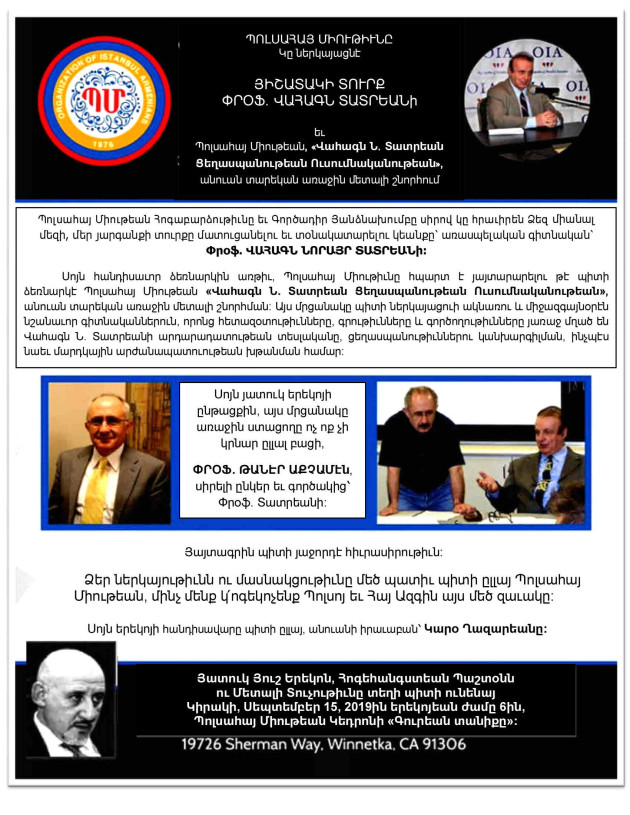 Event details
September 15, 2019
6:00 pm
O.I.A. Center 19726 Sherman Way Winnetka, CA 91306


The Special Memorial Tribute Event shall take place on Sunday , September 15th, 2019 at 6 p.m. at the OIA Center, "Kurian Terrace" .
———————
.
OIA will be hosting a very special Memorial Tribute event on Sunday, September 15th at 6 pm on the occasion of the 40th Day following the passing of Prof. Vahakn Dadrian .
It will also be the launching of the OIA Dadrian Award to be presented to internationally prominent scholars in the field of Genocide Studies . Prof . Taner Akçam is the first recipient of this Award and we will be honored to host him and hear his words .
The Master of the Ceremonies of the Memorial Tribute
 shall be the prominent attorney and activist Garo B. Ghazarian , Esq.
The invite is open to all members of the community . Flyers will also be available shortly .
We can't do enough to honor this legendary scholar, the great son of Bolis and the Armenian Nation , and hope that you will make your way to OIA's rooftop for a memorable evening on September 15th
————————-