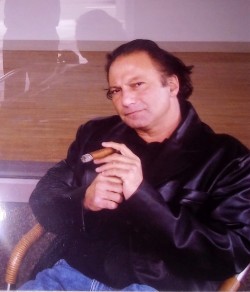 …
 Mr.  Arman Bakirci  (1960-2019) 


40th  DAY REQUIEM SERVICE
Mr.  Arman Bakirci
(Istanbul 1960 – Los Angeles 2019)
40th Day Requiem  Services will be held
On Sunday , October 13, 2019
Church Service: at 11:00 AM
at St. Peter Armenian Apostolic Church
Requiem Service: at 2:00 PM 
at Oakwood Memorial Park
Survived By, 
His wife  Mrs. Talin Bakirci,
His Son Mr. Garbis Bakirci and  fiancé Miss. Paitzar Giourdjian
and her family,
His Daughter Natalie Bakirci,
Talin's parents Incenci family.

His Brother Garo and his wife Alice and
her mother Hilda Sakarya,
His Niece Arlene
His nephew Allen Bakirci's family
including wife Nelly and their son Hayk
Dear friends and extended families
  CONTACT : 
Mr.
Garbis Bakirci  818.219.5505
..